KEEPERS RESOURCES

Blacksticks v Malaysia Test Result
BY
knighttimes
August 18, 2009
Finally in to the 5th and final test of our series against Malaysia. We now find ourselves in Taupo where the great weather has finally turned to rain. The locals really got behind the team and the test match organising a great dinner with some kids from the region and then having a great turnout for the match.
We started the match well and opened the scoring then followed it up with a second before half time. Going in to the break I guess you could say we were happy with how the game was going – of course the second half was a totally different encounter. The Malaysians stepped up their game and we made a few errors to help their cause. They managed to score from a break away and threatened many times. Thankfully we managed to grind out the win. 2-1 final score.
The 5 game test series ended;
Blacksticks holding 3 wins and 2 draws.
Now we focus on the Oceania Cup against Samoa oh and the Aussies 😉
Over and out
Kyle Pontifex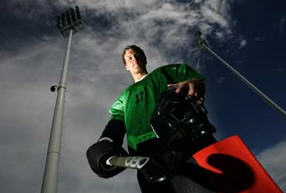 Comments