KEEPERS RESOURCES

Buddha's Blog: Commonwealth Games #3
BY
admin
October 12, 2010
BLACKSTICK'S MEN & WOMEN INTO SEMI-FINALS ACTION
The Blackstick's women made easy work on their route to the semi-finals than the men did. The women played extremely well all through pool-play to go through undefeated and top qualifier of their pool. They even outclassed the highly fancied English to comfortably win 4-1.
They have now set up a semi-final clash with South Africa today at 5:30pm (India local time). The Blackstick's Men's side wishes the girls all the best and we will be there today to support you in what will be a fantastic match!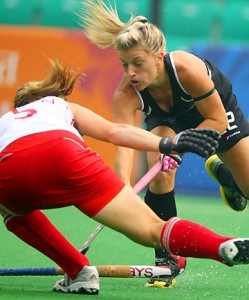 GEMMA FLYNN IN ACTION AGAINST ENGLAND
BLACKSTICK MEN GO DOWN 5-3 TO ENGLAND
Our last 2 games have been interesting ones. We played poorly in most aspects against England as we have done in the last 3 encounters we have played them. They have the wood over us at the moment. It isn't for our lack of effort but more of our application to our game plan that is letting us down.
On too many occasions we have let England get off to a good start and this has always made us play catch-up hockey. When you do this to the top 6 nations in the World you will always struggle.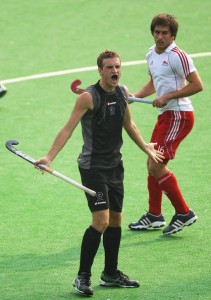 BLAIR HILTON DISAPPOINTED TO NOT EARN A CORNER AGAINST ENGLAND
ANYONE NEED CPR?? HEART ATTACK 1 ALL DRAW WITH CANADA
It was dramatic scenes yesterday at the Dhyan Chand National Stadium as Hayden Shaw converted our fifth penalty corner with three minutes on the clock to earn a 1-1 draw and a semi-final berth against Australia tomorrow.
With 5 minutes on the clock we were forced to pull our goal keeper Kyle Pontifex as the match slipped away. We needed to draw or beat Canada to go through to the semi-final round.
We had missed our four earlier penalty corners, but Hayden Shaw cleverly faked his drag flick, swerved the oncoming Canadian runner and flicked home the crucial goal before kicking his stick into the air in delight.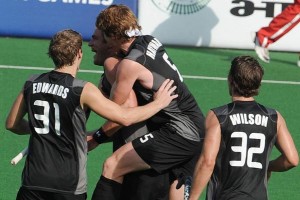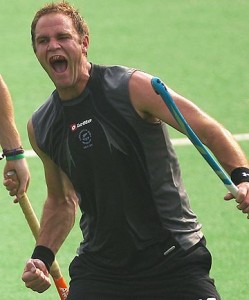 HAYDEN SHAW CELEBRATES WITH THE BOYS AFTER SCORING A CRUCIAL GOAL
Canada's tactics frustrated us from start to finish, but they played to their game plan and executed it extremely well. On most occasions they cleared the ball long and dead, or for 1 v 1 opportunities.
The game also played into their hands as they are supreme tight defenders when protecting a lead. They scored early and were able to sit back in defence to protect their lead. This was something that Canada did very well up until 3 minutes to go when we scored and could breathe a little easier!
Although it wasn't the ideal result or game it was still uplifting to make it to the Commonwealth games medal-rounds!
Sorry to all those at home who watched for the heart-attack we almost gave you!
THE BIG ONE NZ vs. AUSTRALIA
We know that we let an opportunity slip against England but to still make a semi-final at the Commonwealth Games is a great achievement. But the job is only half done and all the boys are really excited about the prospects of tomorrow's game (11am India local time) against Australia.
We have done the hard-work of making the semi-finals but now it is pulling it all together and stepping up individually and more importantly collectively in our performance to match it with and even better Australia.
In sport when you make it to one-off games anything can happen. France vs. NZ 2007 Rugby World Cup (Quarterfinal), NZ vs. Australia 2008 Rugby League World Cup (Final) and NZ vs. Australia 1976 Olympics Gold Medal match. All of these occasions have been when the underdog (by quite some way) has come to the fore and put out a performance of a lifetime to beat their more highly fancied opponents.
This happens all the time in sport and if we pull things together there is no reason why it can't happen tomorrow.
If we get the ball in the circle we have World-class strikers in Simon Child, Nick Wilson and Phil Burrows and probably closest to the best corner battery in World Hockey with Hayden Shaw and Andrew Hayward capable of beating any keeper on their day.
In short we have nothing to lose and everything to gain. So bring it on!
MEDAL TALLEY
| | | | | | |
| --- | --- | --- | --- | --- | --- |
| Position | Country | Gold | Silver | Bronze | Points |
| 1 | Australia | 61 | 38 | 37 | 296 |
| 2 | India | 29 | 22 | 22 | 153 |
| 3 | England | 26 | 45 | 32 | 200 |
| 4 | Canada | 22 | 12 | 25 | 115 |
| 5 | South Africa | 11 | 11 | 9 | 64 |
| 6 | Nigeria | 8 | 7 | 11 | 49 |
| 7 | Malaysia | 6 | 7 | 7 | 39 |
| 8 | Kenya | 6 | 4 | 4 | 30 |
| 9 | Singapore | 5 | 5 | 6 | 31 |
| 10 | Samoa | 3 | 0 | 1 | 10 |
| 11 | New Zealand | 2 | 16 | 5 | 43 |
Comments