KEEPERS RESOURCES

CLOUD Legguards Review
BY
Hillmonger
May 31, 2009
Well I chose to review my OBO cloud legguards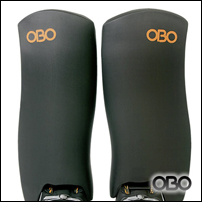 Before I got my Cloud I was using my clubs leg guards. But I found that even on a nice slippery water base pitch you COULDN'T slide!
When I first ordered them I was regretting not getting the ROBO, as I heard rumours that cloud was useless!!
On the day they arrived I was surprised at how light they were!
I noticed that they looked the same as the ROBO hi-control but presuming with slightly softer foam and a few less perks. But still have a lot of good ideas that you won't find on many other brands
-The left leg is wider than the right for some reason (probably for extra height when logging or something)
-The wings at the side are lower to the ground which really helps to stop balls just sliding past your foot.
-The straps are hiding so there is wear-n-tear when sliding.
-The oddly shaped buckles help to stop the straps loosening during a game or training.
-The great idea of the tongue that helps stop the leg guards from twisting!
(yes I know these are not cloud but it's the same idea)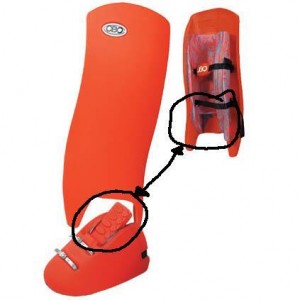 The only flaw I can see with the leg guards is that the area around the knee (highlighted)is quite more built up more than the rest of the pads so when I log there is naturally a gap between them making a lovely target for a good striker. Maybe that is only me as I have short-ish legs but, I have no idea that could help stop this without reducing protection. (yes lets laugh at the very badly drawn picture)
To finish it all I would like to say that I would recommend cloud leg guards to any keeper as they have absolutely excellent protection, are light and easy to move in and have never caused me a single problem during a match.
By the way if anybody else has had the problem with the built up knee please leave me a comment! and if you dont, leave a comment anyway!!
Thanks!!
Hillmonger!
Comments