KEEPERS RESOURCES

Making use of your angles
BY
Dan Pilgrim
May 30, 2009
Now that you have grown used to positioning yourself in the correct angle around goal and the D, it is important to employ your angles in playing a situation to your advantage. Learning to be aggressive with your positioning to challenge the shooter really gives you an edge when faced with an open opportunity against a one on one or set play scenario (like a close-in shot developing from a pass within the packed D from a free hit or long corner), where you can actively reduce scoring chances by stepping out to meet the shot. This way you have the means at your disposal to give you the upper hand in reducing the chances of a goal; it is up to you to use them.
Narrowing the angle
The most important skill of angle play by the goalkeeper is narrowing the player's shooting angle to make it harder for them to score; bringing the goalkeeper closer to the shot, to make the save easier, whilst taking away valuable shooting space at the same time. As the attacker comes in to for the shot the goalkeeper steps out onto the angle, getting in position to cover the shooting space, thus reducing the shooter's options.
By challenging the shooter, you make it harder for them; having to take time to choose the shot, by which time you are ready and waiting.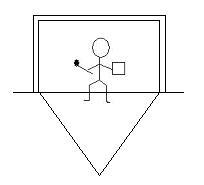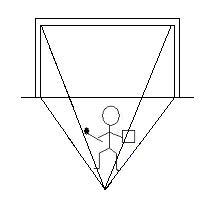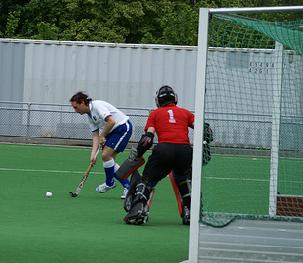 Comments