KEEPERS RESOURCES

OBO Training D'flecta Beta Testing Review
BY
Diesel1
October 1, 2009
D'Flecta Mat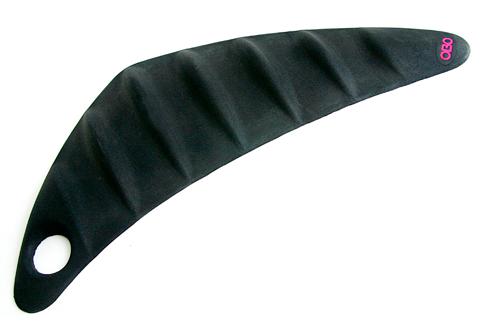 This all weather mat is made of a durable rubber compound which is designed to deflect the ball off fin-like protrusions in unpredictable directions and heights when placed in front of the goals.
The boomerang shaped mat remained secure on the turf regardless of the speed or amount of shots deflected off it.
This is a very portable and convenient piece of equipment and a great aid for goalkeepers.
Shots need to be hit flat on the surface of the turf in order to get optimum defections. Younger players had a problem making contact with the mat as they felt it was too short, this could be contributed to skills still being developed. This problem can easily be rectified by using two mats next to each other.
Some senior players were hitting shots over the mat but this posed no problem to goalkeeper as the shots were still accurate, this also made for variations in the shot and goalkeepers had to watch the ball at all times and not focus on the mat.
The mat was also placed at various distances from the goalkeeper depending on ability/experience of individual. Speed variations also affected the flight of ball when making contact with the mat. The mat was used in conjunction with other drills involving more players eg. One hitter from circle edge, players on either side of goal getting rebound shots.
After personal use I found that the mat performed as it was designed to do and improved my overall performance. The feedback from various other coaches and goalkeepers who used the mat during training sessions confirmed this opinion.
This mat is designed to improve agility, deflective shot saves and reaction time of the goalkeeper. It's a great asset and should be considered as an essential piece of training equipment.
Comments