KEEPERS RESOURCES

Slazenger Phantom Body Armour Review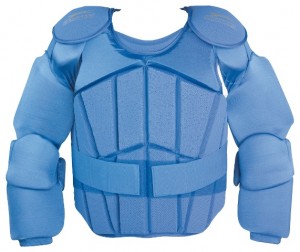 Slazenger Phantom Body Armour
As any of you who have read my review on the Robo Bodi Arma will know I have been singing the praises of the Slazenger Phantom body armour. It doesn't stack up to the Robo equivalent but it does offer decent protection at a fraction of the cost.
After a string of inadequate or ill-fitting sets of chest guards and arm protection my club invested in all-in-one body armour. I can only imagine that they chose the Slazenger phantom body armour because of its price, but who could blame them. At just over half the cost of the Obo Youth Junior Body Armour it provides protection that lies somewhere between that and the Cloud 9 model.
While using this gear I played at a middle level for both my club and school and I found the protection to be more than enough. The chest pad is made of thick spongy foam bound in mesh which, while being far bulkier than that used by obo, does it's job of protecting you from the force of the ball admirably. One or two shots from some of the older players on my team (who play for the Irish U18 or U21 teams) have left me a little winded but I've never had any major injuries.
The arms are made from seven pieces of high density foam. Enclosed in a stretchy Lycra these allow for easy movement whilst still holding the protection in all the right places. This high density foam is far thinner than the chest piece allowing for manipulation of the elbows while not compromising on the protection to those delicate bones and ligaments. The Lycra stands up admirably to the wear and tear of sliding about on a sand filled pitch with only minor fraying in two places after over two seasons. To be honest those were probably caused by my manhandling of the gear after a bad match.
The problem with many of the cheaper sets of gear is that it is virtually impossible to raise your arms above your head. In an attempt to remedy this Slazenger seem to have reduced the amount of foam in the shoulder area. While this has greatly improved the mobility it is the source of one of my few complaints. As a result of their foam shedding there is a small blind spot in the space between the shoulder caps (which are a little lacking too) and the top of the arm pads. I've taken a knock or two here when I've misjudged a raised shot (which I still maintain swerved around my hand pad) or was caught out by a close range deflection. I've been left with a couple of nice bruises and a stiff arm the next day but I feel that for middle level keepers it wouldn't get any worse than this.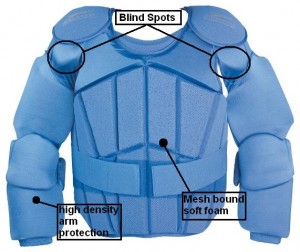 Some of the main features
The tight Lycra arms combined with the foam back panel keep these pads in place beautifully but they do cause a problem during the summer season. During a high intensity session it can get quite hot in the gear. This causes a problem in this situation but during the winter it can be a welcome layer during a quiet match.
So in short the Slazenger Phantom body armour is the perfect choice for any keeper starting out who wants good protection and mobility at budget prices. With solid chest protection and high density foam arms these pads are a perfect choice for any keeper in the early stages of his/her career who's looking for a reasonable alternative to the more expensive other brand options.
So again if you have any questions i'll be happy to help.
Cheers,
Cormac
Comments