KEEPERS RESOURCES

Advanced positioning
BY
Dan Pilgrim
May 31, 2009
To make the most of angle play, and challenging the shooter's angle of the possible shot, you must understand your positioning in relation to the goal, and the ball itself. By really challenging the angle, and 'getting in the face' of the shooter, you should be able to force the shot wide; coming out so far that they miss because there is nothing of the net to shoot at.
Covering the angle
When playing the angles, it is necessary to understand how your depth in goal affects your ability to make the save. Staying on your line means that shots to the sides will be much further away, forcing you to extend and across in order to make the save, whereas coming off your line closes down the angle, making an easier save. Draw a mental line between the striker and centre of goal and positioning correctly, you can reduce the amount of space the striker can shoot at.
If you have the chance to challenge the angle, use positioning to your advantage to allow you to cover more of the shot, rather than making the save difficult for yourself.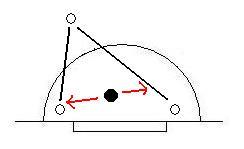 Gap control
Gap control is basically the space between you and the shooter. With a small gap between you and the attacker, they will have less space to shoot at, and will have to shoot at you, or look for the space in the corners, whereas not challenging and hanging back against the shot, will give the shooter more options. By playing the gaps actively, you are able to limit the shooting space the shooter can see, reducing their options of scoring; actively challenging to pick their spot wisely from a number of options that have been cut down by you limiting the angle they can see.
Goalkeeper with strong gap control, vastly reducing the shooter's scoring chances.
Goalkeeper with poor gap positioning, leaving too much of the net open for the shooter.
Comments