KEEPERS RESOURCES

Australia – Korea Test Series
BY
Ross Meadows
February 2, 2010
The Kookaburras have played their first test for 2010 in Hobart, recording a 5-1 win over Korea in match one of three this week.
Coach Ric Charlesworth brought a squad of 25 players to Tasmania for the series as he looks to finalise the 18 that will represent Australia at the World Cup in India next month. The group includes all three keepers who represented the Kookaburras in 2009, with the intention being to share the load against Korea by playing two halves each over the three games.
I was in the net for the opening whistle yesterday and was happy that we went into the half time break 1-0 up after Des Abbott put one away for Australia after 17 minutes. The crowd in Hobart was fantastic and it was a buzz as always to represent my country, but particularly enjoyable given the great reception we received in Tasmania. It was my first game in my new Green and Gold pads that OBO made up for me, and so far so good – no goals conceded!
Nathan Burgers took over in the second half and in the end we were comfortable winners, although given Korea's habit in the recent Champions Trophy of coming back from big deficits to salvage results we were wary of their talent right until the final whistle. Games two and three will be played over the weekend, I'll let you know how we go!
Cheers, Ross.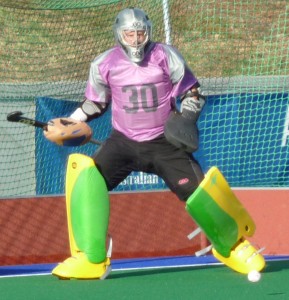 Comments