KEEPERS RESOURCES

Blacksticks v Malaysia Test Update
BY
knighttimes
August 14, 2009
So on to game 3 against Malaysia: After a disappointing 2nd test ending in a 1-1 draw we moved on from the lovely Palmerston North (the home of OBO) to Napier.
The blacksticks played well as a team and dominated the match, we were rewarded with a nice goal to Simon Child. One of the Malaysian's strengths is their ability to conter attack at speed and true to form they had a few chances close to half time.
Keeping my defence in good position and having the confidence to wait for the ball to arrive we kept the Malaysian's scoreless going on to the break. The second half brought some more challanges as we had a number of PC's to defend, the most difficult of these was a flick that took a deflection off the first runner. Using the large blocking surface of the RHP I managed to smother the deflection. Hayden Shaw flicked one in at the other end and then the local boy Shea McAleese got on the end of a backhand cross from Nick Haig to deflect our third goal of the match.Final Score 3-0.
Our next match is tomorrow and the we finish up the series on Sunday in Taupo. Get along if you are in the area!!
Over and out Kyle Pontifex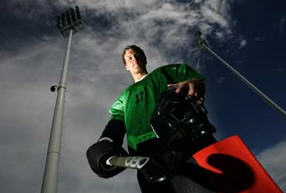 Comments