KEEPERS RESOURCES

Equipment Overview
BY
Dan Pilgrim
May 24, 2009
Lest we forget, equipment is still a very important part of the game for us keepers. If we turn up to practise against hard shots, with poor equipment, it affects our game to our own detriment. Personal cheap cialis 20mg safety is something we should all take note of, and consider equipment that properly protects us during the game. Quality equipment will not only improve your game by giving you better save making properties, but will help you psychologically; giving you the confidence to make the 'big' saves. Keep these factors in mind when you buy new equipment.
The set-up
The goalkeeper's equipment is made up of a mix of protective and goal stopping gear. The kickers and leg guards cover your feet and leg, for shot stopping and kicking the ball away. The shorts and groin guard protection your lower body, with body armour protecting against shots to your body. Your gloves help you make aerial saves, with your stick giving you use in the game for stopping the ball for saves and being aggressive in tackles or interceptions. Last but not least, your helmet keeps your head safe.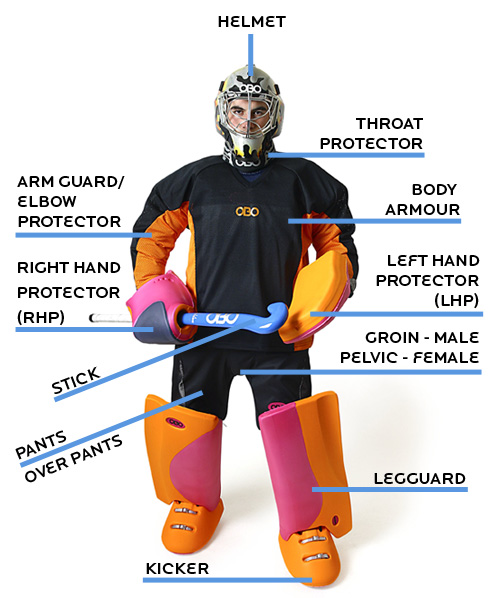 Level of protection
Kit manufacturing companies often grade the gear they sell in accordance with the protective qualities of equipment. OBO does this in dividing up their OGO, YAHOO, CLOUD and ROBO ranges (for the different levels of protection and weight required), whilst TK uses a numbering system (where 1 is best and professional standard), as do Grays (where the best is level 5). Slazenger, Brabo, Monarch, Mercian and Mazon all grade their kit by the named status of play – national, county,  club etc.
The level of protection matches the level of play: level 3 is club/county, level 4 is regional/high domestic play, and level 5 is international (not forgetting that using a higher level of protection for your level of play will boost confidence and protect against 'stingers'). Any low levels will suit junior play and lower school level of action. It is worth remembering this when you, or your club, look to purchase new gear.
Comments