KEEPERS RESOURCES

Game 2 vs France
BY
Ross Meadows
May 29, 2009
Australia recorded a 4-1 victory in our second and final game against France to finish up 2-0 series winners. At the wonderful venue of Racing Club in Versailles, the Kookaburras extended their two goal half time lead in a greatly improved performance after game one. Chris Ciriello, Glenn Simpson, Luke Doerner and Simon Orchard all scored in a very even team performance.
George Bazeley played his first minutes of the tour in the net during the first 35 minutes, while I came on at half time to play out the rest of the game. I have included a picture of the two of us after the final whistle, in which I'm trying to show him the GK gear he should be wearing! Touring with a team is significantly more enjoyable as a goalie if you get along well with the other keeper. Luckily for us this is the case in the current Australian team, a particularly important fact when you consider that we are rooming together for the entire trip.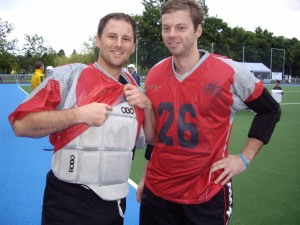 We now leave Paris for our next round of matches in Germany, including the Hamburg Masters tournament. The travel day is going to be an incredible experience, as we head to Villers Brettoneux and then Menin Gate; two very important locations in Australia's history. We will spend the night in Eindhoven before continuing onto Hamburg.
Cheers,
Ross
Comments