KEEPERS RESOURCES

Hi rebound right hand (second generation)
BY
tommyalexander23
August 5, 2011
hey awesome people!
I wrote a previous article, regarding the Hi Rebound Right hand, and I wanted to share further developments with you guys! =)
Almost a year ago, I managed to get hold of the new mercian right hand glove… and I have to be honest! I really really liked it!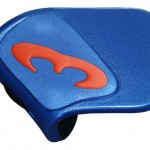 I liked it so much, it gave me some ideas on what I needed to do… to my already modified right hand!
I personally believe that a gk'ers stick is an extension of the arm and the technique/ philosophy, "should be used as if your catching a tennis ball with a straight arm".
So I removed the whole back of the glove… so that the stick could be inline with my forearm.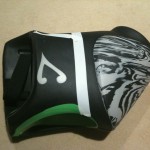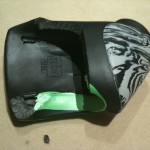 put the inner foam back in its original spot and cut the same line!
Secure it with tape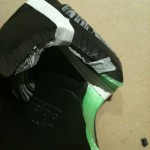 Also I removed the wrist strap entirely and put in a thumb strap… similar to the Hi control glove… & tape through the stick gap to make the finger strap!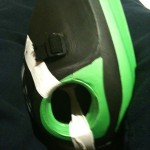 In the original models I put the thumb strap close to the front foam… and something that I have noticed when struck around the thumb area it bloody hurts!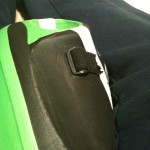 so I added a slice of a left handed protector on top which gave better rebound and protection, but moving on from that, I simply relocated the thumb strap further back into the glove… preventing the thumb being compressed by the ball on the foam!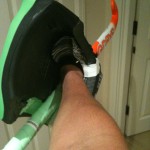 I personally think it has all the benefits of the hi control movement and keeping the stick at the same angle as the glove (especially on the deck) with the high rebound foam and surface-size! =)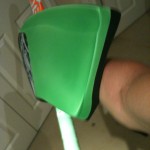 The only 2 areas I'd like to improve on the glove is the bottom part – where the glove rounds off… If that could become flat so when diving bottom right or logging the glove doesn't rotate making the save with the front foam and the flat side of the stick! second! thicker foam (similar to the LH) as its very thin in comparison!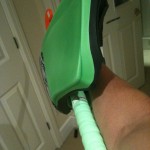 Warning!!! there is very little protection on the back of the glove on mine! I have seen keepers with unusual movements been hit there so just be careful if you do these mods as protection will be less and keep the moments correct!
happy goalkeeping
xoxo
Comments