KEEPERS RESOURCES

Making the Robo HR Right Glove even more 'Perfect'
BY
tommyalexander23
December 1, 2009
Hi Keepers,
I'm Tommy Alexander and I play for Scotland U21s and Surbiton in England!
If your the type of keeper who likes to angle the gloves and let the foam do the work (like me), this will suit you!
I was a massive fan of the OBO Hi Control right hand glove but playing at higher level, it became more apparent I needed similar surface area as the left hand and OBO offered the Hi Rebound RH Glove. I really liked the size and rebound of the glove but felt it was restricting in terms of wrist movement (similar to the Left hand but removing that strap makes the glove perfect!).
Midway through the second half of the season (playing for Reading at the time) I got in contact with Jimi Lewis (Ex England and GB Goalkeeping Legend) to coach me. We discussed the OBO HR right hand and he showed me what cuts he did with a Stanley knife to his when he played at the Athens Olympics.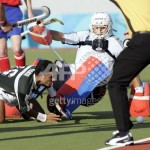 Here are the 6 stages to Making the Robo HR Right Glove even more 'Perfect' 😀
Make sure you remove the strap and the softer foam.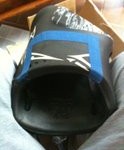 Stage 1 (marking the cuts) I've made a straight line from in between the 1st and 2nd indent on the left. Then a line across, leaving a thin strip from the velcro underneath. Then a line back down on the right, roughly in line with the gap, where the strap would of come out from originally!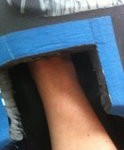 Stage 2 line your wrist and arm in the middle of the glove (where it would be in a match. Make 2 cuts either side of you wrist of where you'd like the strap to be relocated (personally I have it just below the wrist bone)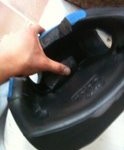 Stage 3 At the bottom of your cuts (cuts should be about 3-5 cm long), join the original two cuts with a straight line. Making 3/4s of a rectangle (don't be afraid of going to deep, once you feel the hard plate, do not cut any further)
Stage 4 put the strap under the cut and tape it back down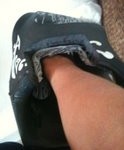 Stage 5 the soft inner foam should be put back in the original place. Cut away to the same shape as the new cutting (if needed apply tape to keep it steady)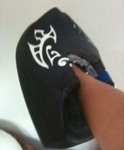 Stage 6 Enjoy 🙂
Tommy alexander xoxo
Comments