KEEPERS RESOURCES

OBO training equipment review.


I've just submitted the following reviews to the Barrington Sports website and thought that I'd share them here too.  I've had the Obo training gear since September 2010 so feel that I've used the equipment enough for me to write a well informed review.   I have a pair of Deflecta's, a Flicka stick and a bag of Bobbla's.
Deflecta: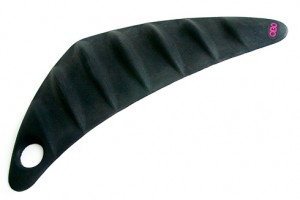 This is an excellent piece of training equipment that really helps to sharpen and hone the reactions.  It is very expensive in my opinion but that's what you expect for anything to do with goalkeepers and their kit (economies of scale certainly screw us all here).
As they are made from recycled tyres, you should expect them to be quite heavy….. and they are!  This is great in that they stay put once placed on the pitch but they're a pain to carry to and from the pitch.  As you can't bend them (because otherwise they'll break) I recommend you carry them at the bottom of a spare goalie bag with the rest of your coaching equipment or use a couple of ladder lock straps to hang them off your shoulder.
I have found that they work better in pairs as they cover more area in front of goal as not everyone is skilful and accurate enough to get the ball to hit a single Deflecta every time.  It also gives you option of having the mats facing opposite ways and therefore giving a high and low profile for more unpredictability.
I definitely recommend that you have a look at the Obo Goalkeeping YouTube channel to see how they suggest you utilise the mats. www.youtube.com/user/obogoalkeeping
All in all, the Deflecta is an excellent coaching tool but the price is prohibitively high and likely to only be affordable to more well off clubs.  Thankfully I have a forward thinking and supportive club that see the importance of supplying quality training equipment to both outfield and goalkeepers alike. Twitter – @SutColHockey
Bobbla: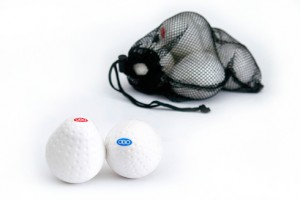 I had high hopes for the Bobbla balls but have been very disappointed with them.
I was expecting them to be unpredictable and to actually "bobble" about but unfortunately they don't do either.
The only way to have the balls "bobble" about is to use them slowly but this makes them all too easy to follow and kick.  If you bring them up to a realistic playing speed, it makes the balls act like a normal hockey ball and therefore is totally readable.  I have tried many various ways of rolling, hitting, throwing, bowling and spinning the balls and just do not think that they are worth the money.  I feel that there are plenty of better ways of spending £76 on training equipment (price related to www.BarringtonSports.com as of 12-April-2011).
My other issue with the balls is that they are made from a very soft plastic compound and they don't look like they'll last.  Unfortunately for me I train at a very poorly maintained council run pitch and most of the goals have metal backboards.  Footballs and idiotic vandals do not mix well with hockey goals and the metal backboards are all seriously dented and pulled away from their frames.  This leaves some sharp edges sticking out and quite a few of my Bobbla balls have been damaged with deep cuts.  The normal training balls do not appear to have the same problem and are impacting at much higher speeds.
In conclusion, the Bobbla is a nice idea that just doesn't seem to work that well.
If you want to see more about how Obo think you can use the Bobblas then have a look at the Obo Hockey on YouTube www.youtube.com/user/obogoalkeeping
Flicka: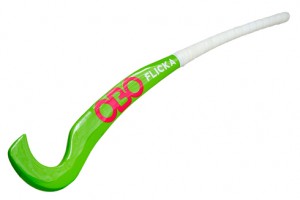 The Flicka is so much fun!  It is relatively easy to use and you can become fairly proficient after a session or two.
I feel that the most impressive feature of the stick is the way that it is effective at any speed.  I am able to lift the ball fairly slowly and accurately in order to train with lower level keepers and then ramp the speed all the way up to eleven when I train my National League keeper.
The stick is well made and as it's made of wood, I'm sure it will give me many years of use (unlike my Obo Fatboy stick which lasted three months before shattering so maybe Obo have improved their quality control).
Like any hockey skill, you need to keep practicing in order to get the best out of the stick.  Most people will be able to lift the ball within 5 minutes and then build it up to being able to hook the ball high and wide to the left after another 10 minutes.  This skill with this stick is being able to flick to the right and you need to learn to open your shoulder and make a deliberate rotation to your right to get it to go that way.  Once you've got this skill sorted, you'll be having great fun with the keepers you train.
As with my other reviews of the Obo training equipment, I recommend that you have a look at their YouTube uploads to see how to get best use out of the equipment  www.youtube.com/user/obogoalkeeping
When I first got my hands on the Flicka I hadn't quite got the technique right and thanks to YouTube and my iPhone I was able to watch the video and repeat the action – easy!
I highly recommend this stick for coaches of all abilities and coaching keepers of all abilities and out of the three Obo Training products would rate this as my number one purchase, followed by the Deflecta.

Comments