KEEPERS RESOURCES

Oceania Cup Final
BY
knighttimes
August 31, 2009
So it looks like we are taking the long road to qualify for the world cup….
We started the match with one of the strongest NZ line ups seen so far this year. I am glad I had a good warm up as right from the first whistle the Aussies had us under the pump. Against the run of play Nick Wilson opened the scoring for NZ. Unfortunately the lead was short lived with the aussies forcing a pc a couple of minutes later and after smothering the initial flick Grant Shubert latched on to the rebound placing it high in the goal from close range.
The game continued to be a close contest as we defended our arses off. On the stroke of half time we conceded another pc. This time the initial flick was heading low to my glove side, as I moved to save the shot a Aussie striker dived in for a deflection. Close to unstoppable from that range so we went in to the break 2-1 down.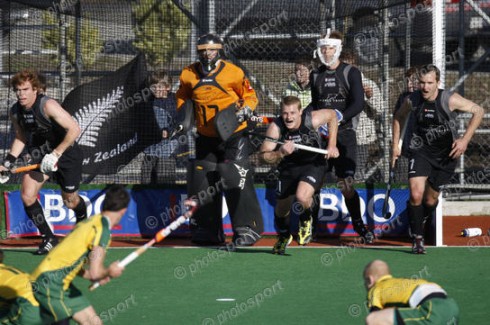 Photo credit; Andrew Cornaga/PHOTOSPORT
Again the second half was a hard fought affair, we were awarded a pc with 2 minutes left on the clock but it was not to be with Hayden Shaw missing the goal. On full time the Aussies were awarded another pc, with 10 attacking players in the circle they were li jng up to punish the rebound from the first up flick. So it was 3-1 in the end. I can report the 3rd half was enjoyable both the nz and aussies sharing a few drinks.
Now we return to Invercargill in November for the next qualifier but next up is the NZ national league. I will be looking to lift the sheild for a 5th time with the Wellington team.
Over And Out,
Kyle
Comments