KEEPERS RESOURCES

OGO Legguard's Review
I have decided to write a review about my new OGO legguards (which I'm borrowing from my club), as I think many people underestimate the great aspects of 'high control' shaped OGO.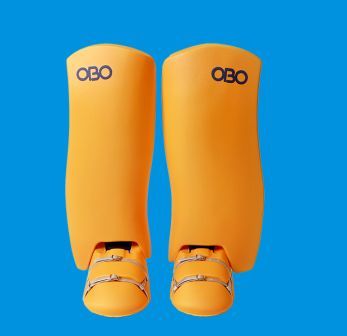 OGO Medium Legguards
When I was given the leg guards I was aware that OGO was the bottom of the OBO range, so I wasn't too excited about getting them. I expected that they wouldn't be strong enough, or I would hurt myself, or maybe they would be awkward and uncomfortable. After just one training session I realised that I was completely wrong, and that there are in fact many great advantages with my new leg guards.
I prefer to wear less gear than most other keepers (no arm guards, neck guard, etc.), because I rely on more of an attacking sort of play, kind of like a third defender. This requires me to run around and switch directions with ease, and to achieve this I need light, comfortable leg guards which will stay facing forward and slide beautifully. I find all of these things with my new OGO's.
While I'm on the subject of sliding, I'll mention a reason for a lot of my past leg injuries. These injuries have always occurred during an attempt at a second save, when my pads have been swivelled around due to lying down on short corners or sliding at players. I will go for a save with my shin and then realise (usually when it's too late) that there isn't actually anything in between the ball and my leg. Luckily for me, this is a thing of the past with OBO's nifty locking system (see my diagram), which has completely stopped my leg guards from twisting!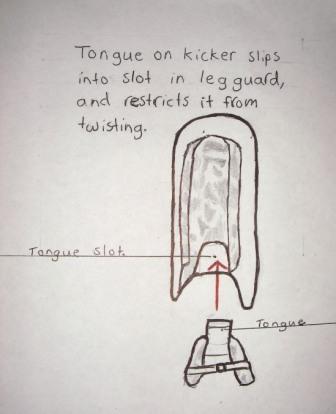 OBO Locking System
After getting used to my old legguards, every time I pick up my OGO's I'm still surprised by how light they are. I'm padding up, padding down, running, stretching, victory dancing, sliding and diving faster than ever before and it has changed my game substantially …for the better of course! Unlike other brands that I have tried, the fact that they are super lightweight does not AT ALL mean they have poor protection – which of course is an extremely relevant aspect, no matter how old you are.
Yes, my OGO's might not have the same amount of rebound as the famous 'ROBO Hi Rebound', but nevertheless I have still been amazed by their remarkable bounciness (apparently it's a word). I have found the rebound of my OGO's a very helpful aspect of goalkeeping, as it means I can make a quick, safe clearance out of the D without having to take a massive kick.
Another thing – these leg guards look so cool! You can tell me not to judge a book by its cover as much as you like but, in my opinion, appearance is a surprisingly large part of goalkeeping; looking good is feeling good, and feeling good means a whole lot of confidence. And everybody knows how important confidence is!
I've thought and thought, and to be completely honest I cannot think of any problem with the leg guards. I'm playing under-fifteens at the moment, and when I move up to under-eighteens I will probably invest in some more expensive leg guards and kickers (I'm thinking hi control) because my OGO's are not specifically designed for this age group. That isn't a fault though, that's a given.
To conclude, the OGO leg guards have been designed beautifully and offer all of the amazing aspects that people around the world have grown to expect from OBO. I am 100% satisfied with them and can't wait to play with OBO leg guards of a higher range.
Please feel free to leave me a feedback comment and questions.
Cheers,
Ozzie.
PS: You know how keepers like to whack their stick against their legguards? My OGO's are so loud! A few days ago I hit my pads with my stick, and one of my defenders jumped about a foot in the air.
Comments