KEEPERS RESOURCES

Reflection: The Year 2012
BY
Rachael Lynch
June 25, 2012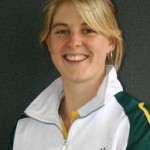 After the high of winning Gold at the 2010 Commonwealth Games in Delhi I knew that I was going to do everything it took to replicate that feeling and achieve the same goal at the Olympics. Gold at London 2012 was my goal, my focus, my dream. I was picked in the Olympic squad late in 2011 and had the process of achieving my dream all planned out. Unfortunately, in sport, things do not always go to plan.
During an olympic year the whole squad is based in Perth and becomes full time athletes meaning we are not allowed to work or study. Our training schedule consists of about 12 or 13 sessions a week plus meetings and recovery so every day is very busy. Our squad is made up of 27 girls including three goal keepers so all year we have been subject to selection for the various tours and international games. Things did not start well for me with the first tour to Argentina being released and my name was not on the sheet. Now I have missed out on teams before. I understand that playing for your country is a privilege you must earn and not a right. I also knew that the only way to ensure it didn't happen again was to train harder than ever before and leave no stone unturned. So, I spent the next three weeks training hard to get myself in good form and ready for the next trip. We played a series in Perth in which I got a couple of games and did ok. But so did the other keepers. The next big tour was to NZ. We had played 3 games against the USA in Queensland before this selection, one of which was my best game for some time. As a goal keeper, sometimes a single goal can be the difference between winning or losing and getting selected or not selected. Unfortunately letting in two goals in the previous game cost me so again I missed out on the tour. Now it was starting to hurt.
The final tour before the Olympics was the London Cup. On this tour the team would get the opportunity to train on the Olympic pitch and make any final adjustments in tactics and combinations before the Games. I had four weeks of training, practice games and club games to prove myself worthy of a spot on this trip. The training was tough, food was invaluable and sleep was the only way to mend my sore muscles. I gave it everything. Selection time came and Lynch did not appear on the list. I was devastated. I was told I had been training and playing better than they had ever seen but it still was not enough. So for the fifth time this year I had to turn up at training and push myself as hard as I could knowing that may dream was slowly slipping away.
Now this story does not have an ending. Well not yet anyway. This week we were given five days off in order to recover and also be in our desired location when the team was announced. I chose to head up north to Exmouth WA with my brother as it was somewhere I had always wanted to visit and he was the person I wanted to be with on the day. We had a fantastic time!
The team was announced on Sunday and much to my disappointment I was not selected in the 16 or as a reserve. I was devastated but in all honesty I have had several weeks to prepare myself so this time no tears. It is heart breaking but it does not mean an immediate end to this journey as the Olympics are not for another 37 days and up until the first day of the Olympics the team can change. Any injured player can be replaced with someone else from the squad so the group of us that weren't selected have to keep training and make sure we are ready…just in case. And I can tell you from experience that this is one of the hardest things an athlete will ever have to do. But I vowed to have no regrets and it's not over 'til it's over so I will continue to give my all in each and every session until the end.
I love playing hockey and representing my country so I am not about to stop. In sport as in life there is always the chance of failure but the rewards are great so nothing is going to stop me trying.
I want to take this opportunity to thank everyone who has supported me along the way. My family are so patient and always there for me, as are my friends. I have the best club, state and national team-mates any one could ever wish for. Thanks to The Butcher Shop Vic Park, Supa IGA Waterford, Dair, Eltham College, OBO, Atlas and Super Advice Services for sticking by me and helping me out this year. And thank you to everyone who reads my posts. I really enjoy writing them and hearing all the feedback so keep the comments and questions coming.
Reflection: The Year 2012 | www.rachaellynch.com.au
Comments