KEEPERS RESOURCES

Review Your Kit Competition Winners
BY
knighttimes
June 11, 2009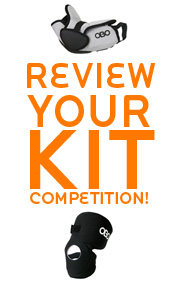 The Review your kit Competition has now closed, but we and other people around the world really value your reviews of kit; so keep sharing, contributing and enjoying. See this link to view all the competition reviews.
We requested creativity in how the content was displayed along with some straight talking on what you really think of OBO products.
After much discussion we would now like to announce the 5 winning articles;
Review: Robo Bodi Arma by CormacDC
OBO comment; Favorite quote – "It glistened like nose hair after a sneeze."
Review of CLOUD Hotpants by Folmer
OBO comment; Good real review with good constructive criticism. Maybe we need to develop the Cloud hotpants.

Review of Robo Hi Control RHP by Kanuckkeeper
OBO comment; liked the use of video.
OBO Cloud Leg-guards Review In A Short Story by danni
OBO comment; good creative story.
OGO Kickers Review by Ozzie
OBO comment; pleased that someone thinks OGO is misunderstood.
If your review was selected as a winning review we will be in touch via e-mail.
Thanks,
The OBO Team
Comments