KEEPERS RESOURCES

The art of visualisation
BY
Dan Pilgrim
May 12, 2013
Visualisation is a useful technique for any goalkeeper, to help them with their confidence and save making. Visualising making saves at specific times within the game (say, at short corners) and specific saves, the goalkeeper can visualise the process of the save to help them concrete technique and build on their confidence, whilst helping make those glorious, spectacular saves, because of the self belief developed from these thoughts running through your mind pretty much all the time! Popular in a variety of sports, it can be applied to our own favourite sport, our beloved hockey, and been made use of when we approach our goalkeeping.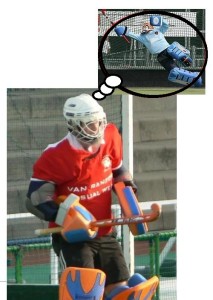 How visualising would sort of look, at least in essence!
What is it?
Visualisation is a psychological aid, a way of approaching the game and the art of goalkeeping itself, through the lens of self image, imagining yourself making particular saves or decisions made. Thinking outside of yourself (as you visualise the shooting space the opposing attacker has when facing you) so you can see what the shooter's options are. Or from an internal perspective, wherein you can effectively see yourself making saves, which in turn will help out making the actual saves when you are called upon to do so.
It's basically way of seeing yourself make a save, a way of imagining you pulling off some cracking stops or saves that you struggle with, technically, and working through the save process in thinking, so that you can pull off specific saves during an actual game. A skill that allows you to work with your muscle memory to pull off the save as the shot comes and the memory recall causes the save to happen, during the game. Essentially it's pre-thinking, or thinking about saves in order to make them when it counts. You visualise yourself making a save by diving out in extension say. The visualisation itself is a driving force for helping you do that in reality when you go to make the dive, the visualisation helping you through enacting the proper technique. As well as providing you with reinforcing your confidence and self belief in trusting in your technique, it also helps for playing games where you have little to do and can lose focus or be forced into making an unexpected save that could have a huge impact on the game and score line.
And it's not something new to something, just something that needs more promotion of! I've seen national league goalkeepers go through visualisation, combined with the physical motion and attacking push out with the appropriate limbs, with Greg Lewis at Guildford HC being a specific example as he pushed out with the glove (and mental thought processing), practising a specific save making format on some short corners. Visualisation is something a lot of elite goalkeepers, in a variety of sports, who use it to help them (you can read Gordon Banks, the famous England football goalkeeper, affirming this, in this article
How?
Visualisation is pretty simple if you think about it: it's just a case of 'seeing' yourself making saves. Imagining a diving save, for example. When visualising, you are going through the technique and action of the specific save, working through it in your mind's eye, and imagining pull off wonder saves, so that you correspondingly play well in the match.
You can work on visualising set saves made. So high or low diving stops at short corners, making glove stops with whichever hand to the appropriate saving side. You can also work in rebound control; visualising where you would put the ball, to a safe place where a second scoring chance is difficult or could lead to a scoring chance if not properly dealt with. And so on.
Apparently, there are two main forms of visualisation that goalkeepers (http://voices.yahoo.com/visualization-techniques-ncaa-college-soccer-goalkeepers-2992419.html) can and should make use of. In first person visualisation, you are imagining pushing out to make the save as the ball comes at you, so seeing an imaginary shot coming at you for you to save. In third person, you can see yourself from an outside perspective, seeing you diving out say for a strong save.
But although it is slightly self explanatory, here are some ideas to help you practise in some quiet place (no distractions for this, like goalie meditation or something!):
See  yourself making certain saves
See yourself making those spectacular, awesome saves we as goalkeepers love to make and it should help with your confidence enough to make them in a game, having seen yourself play that well in your mind
See yourself being confident, in the sense that you can stop every shot, and it should have a knock-on effect on the way you play
See yourself from the shooter's point of view: are you giving away too much shooting space? Are you off-angle or poorly positioned? How much room do they have to shoot into or at? What looks like the easiest scoring chance for them?
Essentially, visualise to the extent that you can improve your game. To the level where seeing yourself make saves in fact makes those saves happen. The list sort of emphasises the types of options but you can work off this to think things through that you have difficulty with.
Why?
Visualisation is a really useful technique for self believe and actual shot stopping. It's cost effective (it doesn't cost you anything to work on it by yourself!) and for its seemingly basic level of technique, it is incredibly useful for what it does, as you will see when you give it a go. It is a very productive psychological technique as you look to be an unstoppable goalkeeping force. The benefits and uses of visualisation are twofold. Imagining making a certain save will help you make it in an actual game, whilst also aiding your confidence, giving you a boost in the way you see yourself in terms of ability, so that you can make those important saves. When you do visualise, be confident, so seeing yourself making those saves rather than any negative thinking creeping in! Visualising in your mind's eye how you are going to make saves should impact you actually making them!
Visualisation is useful for the actual process of shot stopping. According to studies and research, it helps your muscles and brain work in unison. The sport science of it being that the neurones in your brain fire of as you simply imagine the save being made, meaning that your brain is more "switched on" and the neurones will fire quickly as you make the connection between thought of save and save itself, whilst also helping you make the specific save as your muscle memory kicks in and you can call upon the memorised technique to make the appropriate save.
Think about what it is like to make a reflex save. There are times when this will happen, but visualisation can be more useful if it is so possible. Trying to do so in a game is tougher, as you can't rely on anticipation all the time (if the shooter is good at dummying their intentions, especially in the elite tiers of hockey), so obviously it's a case of balancing things. But if your head (and thoughts!) are in the right place as the saying goes, then you should be in a better (metaphorical!) position to make every save for every shot that comes at you.
During a game, this is very useful. If you have not had a save to make for quite some time, then it helps with concentration and "awakening" for the save as it happens, perhaps late on in the game, where you have not had the chance to build in to a game with more saves as assistance. It allows you to imagine the next save, so that when you are called into action, you are mentally ready and prepared for the save. This will aid concentration as you focus on the game (or at least what is happening in front of you!) and be ready for a save to be made, versus losing interest in the game and zoning out to the point of being use when you are eventually called upon.
Visualising saves
You can visualise on the build up to a game, so the night or so before you could see yourself making particular saves. Then just before the game in the journey there and during the warm-up. It is also very useful to visualise making saves during the game. If you have time to, when the play is outside your half, you can do this to keep concentrating and keep ready for making saves. Obviously you need to be reading the game and commanding your defence when the ball is out of your area, but you can also visualise, if you can multi task (who said goalkeepers aren't special?!)!
Visualise!
Ultimately, it's a good idea to look at visualising as a psychological and developmental technique to help you through games and improve your shot stopping and confidence and concentration levels. Believing that, you should be able to make any save possible is going to have a positive impact on the way you play. A means to see and then make, an exact save. It's something you can add into your game and training as well, as you can do this in training sessions when practising corners or facing shots. This way, when you go to make a save, you will be more prepared for save making, especially certain types of save as you have mentally 'practised' it, and are more confident in yourself as the repetition of visualisation sees you making astonishing saves and stopping anything that comes your way, pumping you up for the big game, say!
Med personlig Fishtail brudklänning design kan vara din största skönhet dyker upp. Perfekt kropp brud kan prova.Te Längd brudklänningar 2017
Comments