KEEPERS RESOURCES

Australia vs Korea Series Result
BY
Ross Meadows
February 3, 2010
The Kookaburras have won the three test series against Korea in Hobart despite finishing with a 2-1 loss in the final game on Sunday. After 5-1 and 3-2 victories in the opening two games, Korea responded well to end their tour on a positive note. They are certainly a very good side and will be a force to be reckoned with at the World Cup at the end of the month.
As I mentioned in my previous post, there was a large Australian squad taken to Tasmania that included three keepers. I played the first half in game 1 and the second half in game 2, fortunately recording two clean sheets in my time on the field. Generally as a keeper in the Aussie team you only get a handful of touches each game due to the quality of the defence in front of you, so it makes every involvement you do have in the match all the more important. My favourite for the week was a save from a Korean deflection inside the final two minutes of the close win in game two. Fellow GK's Bazeley and Burgers shared the net in game three and we all now face a week of training and intra-squad matches before we find out which two of us will be heading to India for the World Cup.
One habit that I like to follow whenever possible prior to a match is to spend some time on the field before the warm-up just visualising the game from my position. This is not always an option, particularly when playing a club game or during a tournament when the turf is being used for another game immediately prior to playing myself. However during a test series against another nation there is often time available to spend taking in some of the relevant cues from the goal, such as the impact of the sun's glare or any potentially distracting obstacles in the background. This is particularly useful when you are playing at an unfamiliar venue, and I was caught in the act here during the Korean series in the picture I have included.
Until next time,
Rossco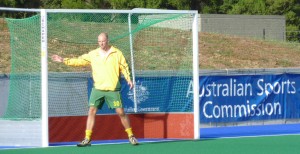 Comments