KEEPERS RESOURCES

Buddha's Blog: Commonwealth Games #4
BY
admin
October 14, 2010
!!BLACKSTICKS WOMEN FIGHT IT OUT FOR GOLD!!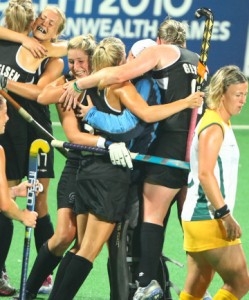 The Blackstick's women were O for Awesome in their 1-0 semi-final win over South Africa yesterday.
They were extremely impressive with the way they took the game to South Africa and outplayed them in almost every area.
Beth Jurgeleit was outstanding in goal and 2 fantastic saves on the line from Emily Naylor kept the South Africans scoreless.
All the girls stuck to task and played well through out the game. It wasn't until a 2nd half penalty corner that the NZ girls finally took the lead, with a corner break down that fell kindly to Clarisa Eshuis who coolly slotted the ball inside the near post!
The girls are assured of a medal their first major tournament medal since a Bronze medal in Kuala Lumpur 1998 and NZ Hockey's first major tournament medal in 8 years when the Men won Silver in Manchester 2002.
This is a fantastic achievement for the girls and NZ Hockey. They have been the stand-out team of the tournament and the most consistent team here across all 10 teams.
The entire Blackstick's Men's team and the NZ Commonwealth Games team believe that the girls will take out Gold and topple the Australians in tomorrows final played at (13:00pm India Local Time, 20:30pm in NZ) I hope you are all watching!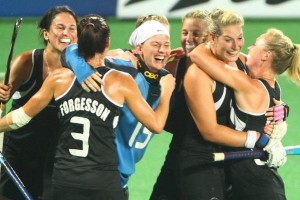 THE BLACKSTICKS WOMEN EMBRACE AFTER THEIR HISTORIC 1-0 SEMI-FINAL WIN
!!BRONZE MEDAL HERE WE COME!!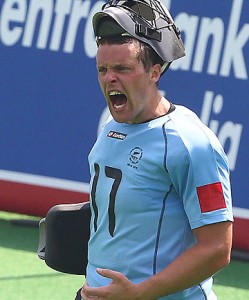 KYLE PONTIFEX DEMANDING EXCELLENCE
For those of you who watched at home I am sure you would agree that a 2-6 defeat at the hands of defending champions and World No. 1 ranked Australia was not a fair reflection of the game.
For the entire 70 minutes we showed plenty of spirit in 40+ degree heat! We had an extremely good game-plan that threw the Aussies off balance and we took the game to them breaking through their much talked about press.
We let ourselves down in the small areas on the field. A few soft goals really let us down as at no stage can you be off your game against Australia and they proved this in a six-minute period just before half-time when they broke the 0-0 deadlock with 3 quick goals.
Even though we were down 0-4 midway through the 2nd half there was still belief in our side which hasn't always been there in the past against Australia. Dean Cousins and Phil Burrows (2002 Commonwealth Games Silver Medallists) were instrumental in this area and they are both players when they say "come" everyone else naturally follows. This is a trait that is rarely found in people and I think our team are lucky to have the 2 of them.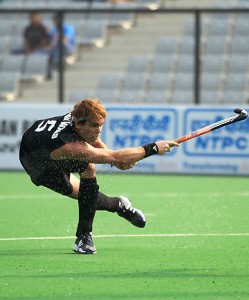 EVERYONE NEEDS A RED HEAD IN THEIR TEAM
Due to this belief we rallied in the 2nd half and staged a late fight-back with goals to Blair Hilton and Phil Burrows and we had another effort controversially disallowed to put the score to 3-4. Everyone except for the ref thought that this was a goal.
The belief was certainly there and we pressed hard in the last 5 minutes to try and score the goals we needed. In doing this we promoted more men forward and were caught out twice late in the game to go down 2-6, an unjust score to our efforts in the match.
If we play like we did against Australia with our desire and commitment in the Bronze medal play-off I am sure we will take the match out regardless of who we play!
But for now it is time to relax by the pool, and enjoy our day off and hopefully see the girls pull off GOLD! We also have a quiz night tonight which is always a bit of a laugh!
Thanks to all those who send their wishes to the team, everyone really appreciates them!
Kind Regards,
Shea
Comments