KEEPERS RESOURCES

Girdles
BY
Dan Pilgrim
June 21, 2009
The alternative upper leg coverage available to goalkeepers, rather than wearing padded shorts, are girdles. Rather than having main padding to the front of the short, the padding is spread right around the leg and hips, conforming to the body shape as the layering develops. High density foam is used throughout, giving you suitable protection.
A lot of field hockey companies, getting in on the act of selling goalkeeper gear, now produce girdles specific to the position; often cloning old versions and adding new sections. Unlike shorts, girdles give extra protection to the upper thigh area, conforming to leg pads to allow most possible movement, making them great for reflex orientated goalkeepers who prefer to dive around acrobatically, and aggressive goalkeepers who need to charge down a player in challenging the ball.
There are a few girdles on the market, as produced by Gryphon and Grays.
There are also older ice hockey versions that are available and work the same, such as Bauer's. Girdles used to be, and still are, used by ice hockey players, with girdles worn as padded shorts, because of the design for fuller movement with protection in mind. Girdles are also produced for inline hockey (the type of ice hockey played on an indoor court), which can be worn for upper leg protection.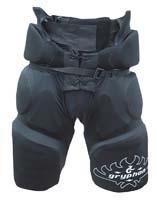 Pros
More protection to upper thigh

Specifically suited to modern goalkeeper's needs

Extra movement, with padding moulding to body shape

Layered padding provides padding to vulnerable areas
Cons
Inner thigh area is missing or the protection is reduced (allowing for greater movement) – vulnerable to shots there
Comments