KEEPERS RESOURCES

Mistake making
BY
Dan Pilgrim
November 11, 2012
Making mistakes as a goalkeeper is quite an important issue to deal with. With the prospect of upsetting your whole team by a bit of mess up can make the experience of playing in goal a whole lot more traumatising. As they say, sport is 10 skill and 90 psychological, so being able to overcome a significant blip in form is incredibly important in providing your team with confidence in your ability and chance to backstop them to victory. How you deal with mistakes and bounce back from them you illustrate how well you handle adversity and compose yourself.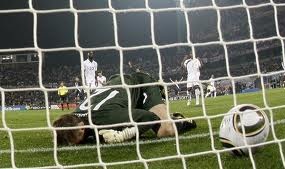 Making mistakes
Starting out as a goalkeeper, it can be easier to make mistakes more readily because of inexperience and lack of training and confidence. But as you develop, you want to be providing solid goalkeeping for your team, with them expecting a good, consistent level of goalkeeping where you make the important stops and more importantly don't give away easy, avoidable goals. As you look to provide consistency within a season to help your team push for a league topping performance, you also need to work on your consistency within games, making sure you don't slip up and give away a goal because of poor decision making or the ball squeezing through you. Well executed, practically unstoppable goals are forgivable, whereas your team won't take kindly to a goal effectively caused by you.
Types of mistake
Allowing shots through you is a good example of a mistake made in field hockey. James Bailey let in such a goal between the legs against the KHC Dragons in the recent Euro Hockey League games and is the kind of example of where you don't want to be allowing goals through you. Shots wide of you are more forgivable, but through you, which are just as difficult to stop, your team mates don't want to see, whilst this is down to good footwork and balance. Other mistakes can be caused by wrong decision making; rushing out at the wrong time to tackle or going down too early on a 1-on-1 for example. Coming out for an interception and missing, leaving the post at the right time or messing up a rebound and sending it out to another to attack to drill it home are others.
Causes
A simple explanation for regular occurrences of mistakes is a lack of mental strength. As soon as you make one big mistake, your whole game can fall apart leaving you wondering why you got out of bed to play the match! A mental collapse in confidence often leads to further goals as you question and doubt your shot stopping abilities and needs to be readdressed, so you need refocus and forget about the goal, moving forward and making sure you do your best not to concede in a similar way. Similarly, over thinking and over analysing can lead to mistakes as you are unsure what to do, like De Gea's run last season at Manchester United. Instead, going with your goalie heart and reacting to events rather than trying to hard will make up for this. Wrong decision making can equally be caused by lack of understanding of how to deal with a situation, which requires experience and also awareness of what a goalkeeper should do in a certain situation, so asking coaches and team members advice, as well as looking for information on what to do should help you out.
'Bloopers'
Howlers and bloopers: the ones where goalkeepers are humiliated for a pretty awful slip-up, compiled for video and internet viewing; the types of goals that are every goalkeeper's living nightmare and which cannot be easily erased. Ones like football's Rob Green letting the ball squeeze through him against USA, a similar gaffe by Scott Carson, Paul Robinson's miskick and the list goes on! Some goalkeepers, like Manuel Neuer (one of the world's best right now in soccer) are amazing shot stoppers and make few mistakes, but the ones they do, are pretty catastrophic. I guess in some cases it's better to make as few as possible, even if they are more worse when they happen!
Of course these are football related, and in terms of hockey, there aren't many I can think of that come to mind, but Max Weinhold's goals through him at the Olympics stand out the most. But because a goalkeeper makes the occasional 'blooper', if they can make the important saves to keep the score close and win the game, does that mean they shouldn't be playing? 'Bloopers' can ruin a career, with people remembering them more than good performances and can be a goalkeeper's downfall, so it is best to make sure they never happen!
The following clip, whilst of football, shows considerable errors such as this:
http://www.youtube.com/watch?v=J1KoGMfhC5w&feature=related
Eliminating mistakes
Making mistakes as said earlier can often be a mental (psychological) game problem as much as it is a technical one. Not getting too weighed down with the pressures of goalkeeping and learning to play 'in the zone' should help, whilst ironing out technical errors through practise and training should translate to performing well during games. Sometimes training well does not translate to good games, but working hard will pay dividends eventually. The need to iron out making mistakes is important for regular success as a goalkeeper. If mistakes are all too common and a regular occurrence, then something needs sorting out! To be considered an elite goalkeeper (at whatever competitive level), you need to give away mistakes which are few and far between because your team relies on you to not give away easy goals that considerably affect their chances of winning.
Being reliable
In football, they call it being a 'safe pair of hands' i.e. you're not going to cause a calamity when you go out to catch a cross or a save, safely collecting or catching the ball instead. You may be able to make outstanding, spectacular saves to deny the opposition, but it is also the goalkeeper's job to not mess up and give away a terribly easily 'giveaway' to the opposition. Gomes in his early days at Tottenham is an obvious example: a goalkeeper who can make the amazing, unbelievable saves, but is prone to letting in howlers like in the Champions league game later in his career (which decided his fate, with Friedel coming in as a replacement). Being an elite goalkeeper is a mix of the incredible and the mundane; you need to be able to do the basics well and also make the cracking saves your team don't expect you to make!
Avoid mistakes!
Ultimately, you want to do your best to avoid making mistakes that could cost your team and gift the opposition a win. Working on technique and getting strong mentally, playing confidently even if such a goal is scored, is definitely important to being consistent throughout a match and the total season. Not over thinking and being able to bounce back from such a goal will ensure that you provide good goalkeeping for your team.
Comments