KEEPERS RESOURCES

Learning from the 'sweeper keeper' myth?
BY
Dan Pilgrim
September 25, 2012
The mythological concept of the 'sweeper keeper' comes from football (or soccer to those outside the influence of the British Isles!) where playing a more attacking and fluid passing style means the goalkeeper has to be more active in their defensive role. As last line of defence, they become more essential to 'sweeping up' (I don't think that's what it's meant to mean, but I feel it's appropriate to the explanation!) back passes and start outlet passes via strong distribution to set up attacks on the opposition's goal. Whilst it may not be the idealised version of a goalkeeper you would expect in (field) hockey, I believe something can be gleaned from the methodology and applied to the way we 'keep' our goals.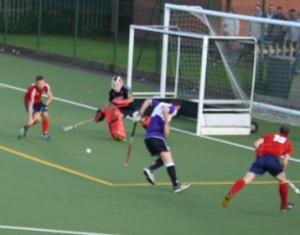 The theory
The myth and theory originally comes from the pioneering playing style of Gyula Grosics. The Hungarian goalkeeper playing in the 1950s is credited with the revolutionary approach. With a high defensive line, the goalkeeper is often left with a large gap between them and the defensive line. The goalkeeper essentially acts as an extra defender, coming off the line and sometimes out of their area to quash attacks and also calmly distribute the ball to their defence. The 'sweeper keeper' has all the desired attributes of a modern goalkeeper; agile, quick, and comfortable on and off the ball. Victor Valdes of Barcelona is seen as the atypical modern version, comfortable with the ball at his left or right foot and able to make pinpoint passes, is said to look so comfortable with the ball at his feet to be able to play in midfield! Hugo Lloris (who has recently joined Tottenham) is said to be the missing piece of a puzzle AVB is putting together, centred around fluid, passing and attacking play.
Here you can see Valdes operating as an extra defender, giving his team options as they are pressed by the opposition:
http://www.youtube.com/watch?v=SboOtGN-Kvc
The following link gives better insight from the soccer perspective:
http://backpagefootball.com/hugo-lloris-avbs-missing-link/48954/
How can it apply to hockey?
When it comes to looking to apply this style to hockey, thinking outside of the box to reflect on can be a good way of new ways of developing the goalkeeping approach. The new penalty shuttles have shown how pro-active and aggressive the modern goalkeeper needs to be. The more a team pushes forward and plays an active, aggressive press deep into the opposition's half, the higher the defence plays and therefore the more open to attack the goalkeeper becomes. By stepping off their line and treating the D as theirs to control and defend, the goalkeeper is more able to shut down scoring chances. With the change in free hits to allow aerials, the goalkeeper needs to be prepared for more aerial threats into the D at the higher level, which become more dangerous when the defence is playing a high press.
Acting like a fifth defender is not as uncommon in indoor hockey, with a mobile and aggressive style befitting the fast paced game. Peter McNally in the 80s of Australia acted like an extra player, able to trap with the glove and then play the ball with his stick, along with Scott Kovacs and now Andrew Charter, demonstrate the aptitude of aggressive goalkeeping to shut down scoring chances by working in unison with their defence. However, in terms of the outdoor game, there is little to comment on, but there are some who show a more attacking style in the way their defend their goal. The French style of goalkeeping in hockey often follows the indoor style, with a pro-active and aggressive style which sees the D as the goalkeeper's role to protect. Julien Thamin was famous for his pro-active approach with the French international team and St Germain HC. I have noticed examples in the England Hockey League of pro-active goalkeeping, with Andrew Isaacs at Havant comfortable coming out his goal to punt away aerials thrown into his D, whilst Stuart Hendy regularly comes off his line to intercept passes in the D.
The following link (didn't want to plagiarise the photos!) demonstrates Isaac's style, with pictorial evidence of a goalkeeper active within their D:
http://www.cbosports.nl/fotos/20120826_T-Trophy/index4.html
Comfortable with the ball at your feet
Whilst hockey goalies aren't expected to hoof the ball up the pitch to set up a goal (although I've seen it done at the national league level!) we can learn a lot from football in the need to be comfortable with the ball. In essence, as goalkeepers we should be comfortable with our kicking enough to act as a passing option. A couple of times I have had to bail out my defence and acting like an extra defender, was able to pass the ball back to them or rush out to kick away a pass into the D and save their blushes. Like a football goalkeeper with strong kicking ability, the field hockey goalkeeper should also have strong kicking skills; able to kick with both feet strongly to distance with strong technique. The ability to come out off the line to intercept or kick away a pass into the D with distance to the sidelines, is an important part of goalkeeping.
Actively out to challenge
When faced with a lack of defensive support and having your team push up to push for a goal, you need to be ready to come out and challenge the play. By acting like an extra defender and coming off your line, you offer your team mates the chance to slow down the play; challenging the ball carrier, which in turn gives your team mates extra time necessary to get back into position and provide support to defend the goal. Similarly, whenever a ball gets through, you should be prepared to come out and clear it, like you will soccer goalies do. Just like Casillas rushing out of his box to knock away a high ball with his head, or sliding out with the feet to block (we would have to use the stick!), hockey goalkeepers can sometimes be seen shutting down scoring opportunities by sliding out with the stick to prevent a one on one. This is an elite skill and needs confidence and practise, but if executed well will shut down a potential goal.
At 5:08 you can see Manu Leroy (of KHC Dragons) pulling off such a feat:
http://www.youtube.com/watch?v=Z38daR6NR_8&feature=player_embedded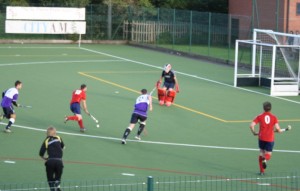 Pro-active positioning
'Sweeper keeping' like an extra defender revolves around aggressive positioning: able to read the play well, the goalkeeper can respond to what occurs in front of them from active positioning at the top of the D. Closer to the edge of the D, you will be quicker out to aerials or long passes into the D, ready to challenge a breakaway player or unchallenged players coming into the D. By being prepared to come off your line actively, you stand a better chance of shutting down scoring chances and preventing goals through pro-active goalkeeping involved in the play.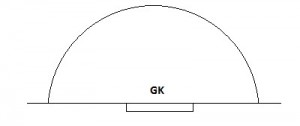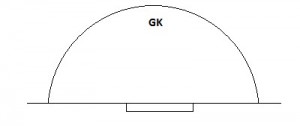 Whilst it is a basic example (and not off hockey!), the following illustrates a goalkeeper challenging the angles and pushing up off their line:
http://www.youtube.com/watch?v=9YaBvrHoGUw
Protecting your 'house'!
The American phrase often used in field hockey refers to the need to dominate your area. It complements the theory of sweeper keeping, with the recognition that is more than just your goal, but your D, that you are guarding. The idea that you need to protect more than just your two posts is essential to strong goalkeeping and a more broadened role of supporting your back line. By 'protecting your house' in an active way, it helps reassure your team with a commanding, dominant presence, knowing that you are ready to come out and shutdown scoring chances yourself.
Playing as a 'sweeper keeper'
Playing like a 'sweeper keeper' will obviously as listed previously, involve acting like an extra defender; prepared to come out and play the ball away or shut down attacks. The more active you are in the D, the more agile and physically fit you will need to be. As soon as you go out and down to block or intercept, you need to be up on your feet as soon as possible, before getting back into position to stop further shots at goal. Strong decision making and confidence in your ability will obviously be important as you don't want to be giving unnecessary goals or getting stranded and out of position.
At 3:24 you can see a great example of pro-active goalkeeping:
http://www.youtube.com/watch?v=37L0toHH7yI
The following are examples of 'sweeper keeping':
Aggressively challenging breakaways
Making interceptions against passed plays
Coming to the edge of the D to sweep away the ball with the stick, or using the stick to intercept outside the D
Attacking base line runs with slide tackles
Coming off your line to deal with aerials into the D
Being alert to rebounds; actively coming out to kick clear a deadened rebound etc.
Being a 'sweeper keeper'
Ultimately, considering the role of the 'sweeper keeper' should cause you to rethink the goalkeeping position. Whilst the buzz phrase of 'sweeper keeping' is a good way of attributing the skills of a commanding goalkeeper, it is a good way of reflecting on your activity within the D. In essence, the theory acknowledges the need for goalkeepers to be more than shot stoppers. A key part of goalkeeping is to deny scoring chances through interceptions and the like, rather than allow shots to come in. By recognising this you can develop into a stronger and more commanding goalkeeper that your defence has trust in.
Comments