KEEPERS RESOURCES

The goalkeeper duel
BY
Dan Pilgrim
March 15, 2013
A game is essentially down to how the goalkeeper performs, at each end of the pitch. The more goals one of them allows, the more likely their team is to lose, obviously! Ultimately, it's a battle between the goalkeepers. Yes, but really any game (as I'd like to think!), it boils down to how well the goalkeeper at each end performs. If one has a bad day the office then they're probably going to lose and lose out in points, and if the other does well, with the backing of their team, they can win and take home the three points with and for their team! But really, if you are struggling to find motivation in a game to play well, then perhaps you may want to think about mirroring yourself and your goalkeeping performance in response to the other team's goalkeeper that you are facing up to?! And a simple yet potentially effective way of rethinking psychological inspiration and the 'mental game', is to consider the chance to prove yourself as a goalkeeper and pitting yourself against your opposite number, to encourage yourself to outperform them.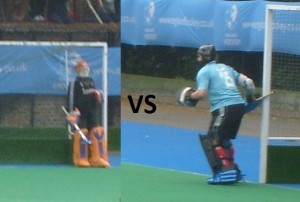 Goalie legends Vogels v.s. England's Fair in a friendly match at Bisham Abbey. Don't think I could have a career in promotional ads!
Pitting yourself against your opposite
In the blue corner, we have… and in the red corner, we have…! Ok, so hockey and goalkeeping particularly, isn't exactly boxing or its promotional aides. But you may want to consider things like they're the clash of the titans! Or a widely touted heavyweight bout! At least, when two of the world class best and arguable best in the world, greats like Vogels, Stephen Mowlam or Simon Mason, ever face up against each other, in goalkeeping terms, that is pretty much it! If you have turned up to a game and just aren't 'feeling it' or are not too geed up on the idea of playing well, one way to trigger some amount of self motivation and encourage yourself to 'up' your play and play to your best, is the concept of outplaying your opposite number (goalkeeper!) at the other end of the pitch. If you want to prove who is best out of the two of you and want to inspire yourself if confidence is lacking or you're just not 'showing up at the races', then imagining things like this and pushing yourself on to showing how good you can really play, you can starting showing your ability (perhaps just to show off to said opposite number!) and come out on top! Think about it; if you want to really show yourself up, now is the chance to, and thinking of it like that every game should inspire you enough to put in regular man of the match worthy performances!
Outdoing your opponent
When you're pitting yourself against another goalkeeper, you want to be able to match them, like in tennis, point for point; save for save. It's no good just thinking about it, you've got to do it! Challenge yourself to stop every shot as it happens and stop or limit every scoring opportunity that develops. Don't just 'sit pretty' and be a 'ball watcher'; an observer more than a goalkeeper! Matching them save for save and stopping everything that comes your way, you are looking to come out on top. Of course, facing fewer shots affects this, but still, quality over quantity! You may often see this in a very close game where the score is a 0-0 game or low scoring tie and every scoring chance and opportunity are as a result more important to the outcome of the game, which are being kept to a minimum, is decisive and therefore incredibly essential for the goalkeeper to stop. This year, I've been able to get along to a few games where this has happened in the national league, and it really has been a battle between the two goalkeepers to keep their team in it.
The following clip is a great demonstration of Reading's Nick Brothers (at the time, he has since left the sport as far as I'm aware, sadly), going up against RC Barcelona's Oriol Fabregas in the Euro Hockey League. The score line was incredibly close and both did the utmost to try and outdo one another and show their worth, making some quality stops and cracking saves:
Competitive but constructive rivalry
Of course, being a member of the 'Goalies Union', it's not like you need to hate the goalkeeper you're going up against! I guess if you're battling it out with another goalkeeper in your club or classification group for international selection say, you may be a lot more emotionally engaged with the battle of fighting for a place or proving your talent, but ultimately, we're all goalkeepers and we're the only ones that fully understand each other! I don't think outfield players really care that much about the intricacies of kit modifications, or how our positioning etc. resulted in the save that won the game and so on! They just want us to make sure win the game, or at least, we don't slip up! It's a good idea to pit yourself against the goalie at the other end, just so you have something to focus on regards to mentality, and at the end of the game, remember to shake their hand and say something encouraging (you'd want the same!); well played and all! So, really, it's just a game at the end of the day (sure I won't get away with saying that!); it's what you put into life and sport that makes the difference. So, simply put, put everything you've got into a game and enjoy the efforts afterwards!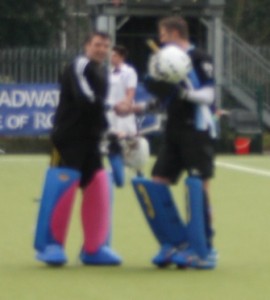 Tom Skinner and Simon Mason are all smiles at the hand shake after a national league game between Bath and Guildford!
Out duel your opposite!
Ultimately, if you're struggling for motivation and finding it hard to settle into the game or have conceded and are getting despondent, which is effecting your performance and therefore your team's chances for a result, a quick trick for your psychology and 'mental game' is just to focus on how well the goalkeeper you're facing up against is doing and outdoing them. It's a simple but thoughtful idea! If you're a little nervous, self doubting or lacking confidence to start the game, then reminding yourself that you are the better goalkeeper and pushing yourself on to prove it in your goalkeeping performance during the game, may just be handy for doing so!
Comments