KEEPERS RESOURCES

BLOG

CROSS TRAINING
Cross training
BY
Dan Pilgrim
August 20, 2014
"Cross training" (or circuit training) is the phrase used to explain athletes training in other sports than the one that is their main focus (i.e. hockey in our case!), to work on inherent skills like muscle memory, reaction speeds, response time, stamina and tactical awareness/decision making. With so much variety available, multiple sports give the chance for a sportsman (or woman!) to work on aspects of their own game outside the constraints and pressures of their sporting environment. Of course, although if, as internationals, they are going to be playing still with games over the course of the summer when everyone else is resting (on the laurels even perhaps!)
When the season is over, it is a good chance to keep the itch at bay (goalkeeping itch that is!) by playing another sport. Otherwise you could add in a short session of another sport to your regular training schedule; an alternative to gym work where the game practice can be more useful for skills like reading the game and such. Apparently the Royal Marines do a lot of cross training, which is enough to provide some inspiration; something that the elite amongst us might prove a catalyst. It's something extra, even though it might not directly correlate to obvious games in your goalkeeping, and when it comes to goalkeeping, you can stay fresh and have a space to learn and try out new things, even if you don't intend applying them to the hockey pitch.
Playing 'out'
Playing as an outfield player (playing 'out' as there say in various places in the world, I think!), is useful for goalkeepers because it allows you to see the game from your team mates view. You can then apply this to your game play, as you see the key times in a game, the psychological impact, and how to direct the players in front of you, with better calling and so on. Playing 'out', you can see more regards what the view like is from an outfield position, helping you learn how to command your defence in terms of more appropriate and concise calls. And the running around, especially if playing in midfield or up front looking to explode out of the blocks to get to a loose ball or beat the defence,  obviously helps for general fitness!
Wicket keeping
Wicket keeping is an activity that goalkeepers seem attracted to quite a bit. David James (more known for his afro, playing in Iceland and his bankruptcy days than world class saves these days), had his chance at a TV based go at wicket keeping. As can be seen below, David used it as an excuse to apply his football based approach, but following the ball and focusing on the ball are things that can be taken from cricket practice and re-applied to our own goalkeeping:
And in hockey, watching the ball through in to the save, is so important in whatever action is called upon, more so in deflections where you have to be focused on the ball entirely to make that last second shift across to make the block. For hockey, both Hinch and Pinner have had a go at wicket keeping technique through English sporting connections, and have seen the positives.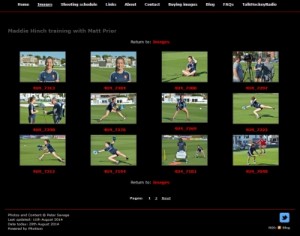 http://www.hockeyimages.co.uk/portfolio353383p1.html
Racquet sports
Racquet sports are great for hand-eye co-ordination, getting that muscle memory working and helping visualisation and your reactions. The posture is similar enough to a goalkeeping stance, working those leg muscles, and by reacting from the hands, you can see and should be able to; see a difference in saving from the hands when you go back to hockey. Rachael Lynch has written some interesting stuff on this, which is worth checking out.
Playing in goal
If you are addicted to playing in goal as much as I am (can't help it!), then you may consider giving other sports a go when the hockey season is over, just to keep the goalkeeping bug ticking over until the hockey season starts again. Having close friends that are more interested in football comes in handy when they need a goalkeeper to fill in, but I'm sure there are opportunities out there if you really want to look into this an option. Commanding the defence and being vocal are simple but effective things you can get the chance to work on in another 11-sided game format.
Football
Football, being the world's biggest (most popular) sport, has pretty impressive player base, and it therefore shouldn't be too hard to get a game in or get involved in so how as some extra training (if for fitness if nothing else!). 11 a side is a little hairy due to the bigger goals and feeling like an ant coming from hockey, as well as not parrying (unless you want to punch everything like a certain Pat Jennings in his early days!). But the athleticism and the kicking can help you work on crossover skills for your hockey season. The need for immediacy for the need to be off your line and out to reach a loose ball can be incredibly useful for reading 1-on-1's and rushing out, as well as the confidence to.
Five or six-a-side is handy for getting used to player like a sweeper and working on your kicking; more so looking for outlet passes as the first line of attack (last line of defence; first line of attack!). You'll often be playing as a sweeper, playing the short pass and shifting the ball around and looking for space to put the ball to be useful when looking for space to put the rebound into when you are saving with your feet. Kicking the ball with a strong kick through and follow through will also be put to good use in your upcoming hockey season. In football you're going to be kicking a lot, and the opportunity to do that is pretty useful, given the fundamental of kicking and saving with the feet in our game.
An interesting case of an elite level goalkeeper doing a bit of football cross training, was Beth Storry before the London Olympics (biased because he's a Spurs goalkeeper, so sue me!). It was interesting to see the discussion between styles as the goalkeepers analysed the crossovers of technique and application. You can read the write-up and see Storry in action at Tottenham's training ground at the link below: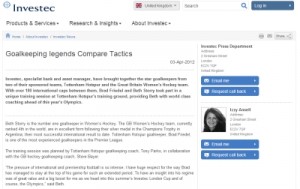 http://www.investec.co.uk/about-investec/investec-news/goalkeeping-legends-compare-tactics.html
Futsal
Futsal is pretty popular in Spain and South America, as well as Eastern Europe, so could be worth looking into if you're from these parts of the globe. It will help you push yourself out your comfort zone to come out and cover; learning to dominate your area. Having to block rather catch also helps out given the automatic tendency will be for you to block rather than catch coming from your hockey style of goalkeeping! So you will have a good chance to use your leg based muscle memory for foot and 'kick' saves. Spreading your body to make a large surface area for blocking shots when coming off your line is also handy for charging down a rebound in hockey.
Ice hockey
This might be more applicable to those that play a winter sport (would prefer playing summer sports in summer than on a freezing pitch so obviously jealous!) and then a summer sport in the form of field hockey, but is still a good concept. Again, the emphasis is on catching and swallowing it rebounds, but being dead on with your rebounds is central to being a good goalie on the ice. Interestingly enough, Lev Yashin, who is considered by far the world's best ever goalkeeper in the footie, was actually a dual athlete goalkeeper. On the edge of Winter Olympic selection, he actually stuck to football and then went on to fame (didn't get much fortune sadly…). Many critics and  reckon that the repetition of angle play in his ice hockey training days helped him iron out problems he had with football, being the key ingredient to the great success he had.
Others:
Handball – can use it for footwork/fitness and Schmeichel's 'star jump' technique
Lacrosse – can use it to work on reactions/reflex saves, hand-eye and reading the game
Floorball – more catching based, but can use this to practise working on hand-eye co-ordination
Non-goalie sports
Rugby or American Football should help with defensive awareness and learning to read the game. As a result, your awareness of how you can work as a defensive unit with your defence and learning to make the right calls relating to repositioning or man marking etc. And there are various other sports that can help with different aspects of goalkeeping like athleticism and explosive power.
Just training!
At the end of the day, it's just training! There's no commitment to a season long of another sport; it's all about trying things out and re-applying what you have learnt from reading the game and blocking shots instinctively. Reading the play in different sports can help you spot defensive breakdowns sooner in a hockey game.
Psychologically it is also a neat trick for you to work on your confidence and playing under pressure (since you are trying something new). Sometimes it can be difficult to develop outside of training with the pressures of playing at a competitive level, and therefore you don't always get to experiment with confidence (i.e. the certainty of not allowing a goal). So playing another sport allows you to do this and build up your self confidence, which is ever so vital for high performance in goalkeeping.
Comments