KEEPERS RESOURCES

BLOG

INSIDE THE OBO KICKER
Inside the OBO kicker
Hey guys, thought this might interest some of you who want to know whats really in your kicker. We've deconstructed a kicker to show you a little bit about how they work and what they're really made of.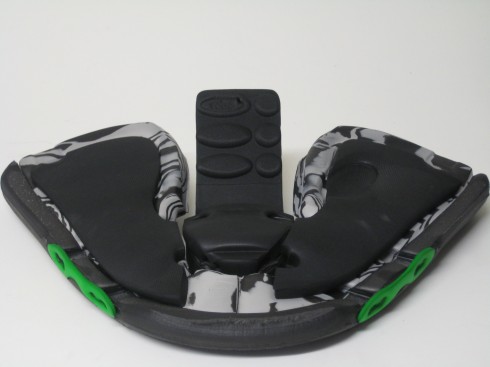 As you can see in this photo the inside of the kicker is rather different to how it looks on the outside. We counted up the number of components within a kicker, including straps and buckles, and discovered that the Hi-Rebound kicker has 21 individual components. I'll run through a few of them now.
The black and gray patterned pieces of foam that make up the base of the kicker are a shock absorber. They are less dense than the coating that would normally be on the outside of the kicker and made of soft, lower density foam which absorbs most of the impact from a ball hitting the kicker. They also provide a comfortable inside surface of the kicker that can mold to the shoe.
The two large black surfaces on either side are what gives the kicker its Hi-Rebound. They are rigid, high density pieces of foam. This means they don't bend when the ball hits them and therefore provide a more solid surface and consequently Hi-Rebound. Notice that they are on both sides of the kicker. This is because OBO kickers do not have a left and right.
The layer of black foam you can see around the bottom of the kicker is like a wear pad. It is higher density than the soft inner and lower density than the outer foam and designed to protect the soft inner foam from wearing on the playing surface.
As with the sides of the kicker, the tongue also has a hard outer surface and a soft inner surface. This cannot be seen in the picture but the top part of the tongue (which can be seen) is higher density than the bottom part of the tongue (which cannot be seen).  This is the same principal as the rest of the kicker. Hard protection on the outside, soft comfort on the inside.
What also cannot be seen in this photo (but you will find on your kicker at home) are the soft foam pieces on the back of the kicker. They are there to stop your shoe from sliding out of the back the kicker during a game.
this kicker doesnt have any straps or buckles for obvious reasons, but the straps and buckles that OBO uses are all designed to wear and survive impact better than anything else on the market.
Comments