KEEPERS RESOURCES

Cross training
BY
Dan Pilgrim
August 20, 2014
"Cross training" (or circuit training) is the phrase used to explain athletes training in other sports than the one that is their main focus (i.e. hockey in our case!), to work on inherent skills like muscle memory, reaction speeds, response time, stamina and tactical awareness/decision making. With so much variety available, multiple sports give the chance for a sportsman (or woman!) to work on aspects of their own game outside the constraints and pressures of their sporting environment. Of course, although if, as internationals, they are going to be playing still with games over the course of the summer when everyone else is resting (on the laurels even perhaps!)
When the season is over, it is a good chance to keep the itch at bay (goalkeeping itch that is!) by playing another sport. Otherwise you could add in a short session of another sport to your regular training schedule; an alternative to gym work where the game practice can be more useful for skills like reading the game and such. Apparently the Royal Marines do a lot of cross training, which is enough to provide some inspiration; something that the elite amongst us might prove a catalyst. It's something extra, even though it might not directly correlate to obvious games in your goalkeeping, and when it comes to goalkeeping, you can stay fresh and have a space to learn and try out new things, even if you don't intend applying them to the hockey pitch.
Playing 'out'
Playing as an outfield player (playing 'out' as there say in various places in the world, I think!), is useful for goalkeepers because it allows you to see the game from your team mates view. You can then apply this to your game play, as you see the key times in a game, the psychological impact, and how to direct the players in front of you, with better calling and so on. Playing 'out', you can see more regards what the view like is from an outfield position, helping you learn how to command your defence in terms of more appropriate and concise calls. And the running around, especially if playing in midfield or up front looking to explode out of the blocks to get to a loose ball or beat the defence,  obviously helps for general fitness!
Wicket keeping
Wicket keeping is an activity that goalkeepers seem attracted to quite a bit. David James (more known for his afro, playing in Iceland and his bankruptcy days than world class saves these days), had his chance at a TV based go at wicket keeping. As can be seen below, David used it as an excuse to apply his football based approach, but following the ball and focusing on the ball are things that can be taken from cricket practice and re-applied to our own goalkeeping:
And in hockey, watching the ball through in to the save, is so important in whatever action is called upon, more so in deflections where you have to be focused on the ball entirely to make that last second shift across to make the block. For hockey, both Hinch and Pinner have had a go at wicket keeping technique through English sporting connections, and have seen the positives.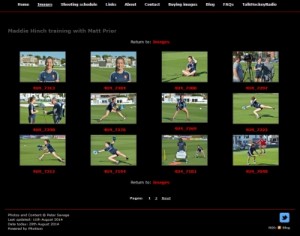 http://www.hockeyimages.co.uk/portfolio353383p1.html
Racquet sports
Racquet sports are great for hand-eye co-ordination, getting that muscle memory working and helping visualisation and your reactions. The posture is similar enough to a goalkeeping stance, working those leg muscles, and by reacting from the hands, you can see and should be able to; see a difference in saving from the hands when you go back to hockey. Rachael Lynch has written some interesting stuff on this, which is worth checking out.
Playing in goal
If you are addicted to playing in goal as much as I am (can't help it!), then you may consider giving other sports a go when the hockey season is over, just to keep the goalkeeping bug ticking over until the hockey season starts again. Having close friends that are more interested in football comes in handy when they need a goalkeeper to fill in, but I'm sure there are opportunities out there if you really want to look into this an option. Commanding the defence and being vocal are simple but effective things you can get the chance to work on in another 11-sided game format.
Football
Football, being the world's biggest (most popular) sport, has pretty impressive player base, and it therefore shouldn't be too hard to get a game in or get involved in so how as some extra training (if for fitness if nothing else!). 11 a side is a little hairy due to the bigger goals and feeling like an ant coming from hockey, as well as not parrying (unless you want to punch everything like a certain Pat Jennings in his early days!). But the athleticism and the kicking can help you work on crossover skills for your hockey season. The need for immediacy for the need to be off your line and out to reach a loose ball can be incredibly useful for reading 1-on-1's and rushing out, as well as the confidence to.
Five or six-a-side is handy for getting used to player like a sweeper and working on your kicking; more so looking for outlet passes as the first line of attack (last line of defence; first line of attack!). You'll often be playing as a sweeper, playing the short pass and shifting the ball around and looking for space to put the ball to be useful when looking for space to put the rebound into when you are saving with your feet. Kicking the ball with a strong kick through and follow through will also be put to good use in your upcoming hockey season. In football you're going to be kicking a lot, and the opportunity to do that is pretty useful, given the fundamental of kicking and saving with the feet in our game.
An interesting case of an elite level goalkeeper doing a bit of football cross training, was Beth Storry before the London Olympics (biased because he's a Spurs goalkeeper, so sue me!). It was interesting to see the discussion between styles as the goalkeepers analysed the crossovers of technique and application. You can read the write-up and see Storry in action at Tottenham's training ground at the link below: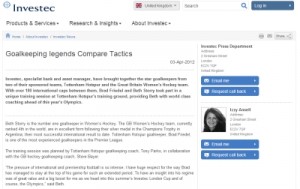 http://www.investec.co.uk/about-investec/investec-news/goalkeeping-legends-compare-tactics.html
Futsal
Futsal is pretty popular in Spain and South America, as well as Eastern Europe, so could be worth looking into if you're from these parts of the globe. It will help you push yourself out your comfort zone to come out and cover; learning to dominate your area. Having to block rather catch also helps out given the automatic tendency will be for you to block rather than catch coming from your hockey style of goalkeeping! So you will have a good chance to use your leg based muscle memory for foot and 'kick' saves. Spreading your body to make a large surface area for blocking shots when coming off your line is also handy for charging down a rebound in hockey.
Ice hockey
This might be more applicable to those that play a winter sport (would prefer playing summer sports in summer than on a freezing pitch so obviously jealous!) and then a summer sport in the form of field hockey, but is still a good concept. Again, the emphasis is on catching and swallowing it rebounds, but being dead on with your rebounds is central to being a good goalie on the ice. Interestingly enough, Lev Yashin, who is considered by far the world's best ever goalkeeper in the footie, was actually a dual athlete goalkeeper. On the edge of Winter Olympic selection, he actually stuck to football and then went on to fame (didn't get much fortune sadly…). Many critics and  reckon that the repetition of angle play in his ice hockey training days helped him iron out problems he had with football, being the key ingredient to the great success he had.
Others:
Handball – can use it for footwork/fitness and Schmeichel's 'star jump' technique
Lacrosse – can use it to work on reactions/reflex saves, hand-eye and reading the game
Floorball – more catching based, but can use this to practise working on hand-eye co-ordination
Non-goalie sports
Rugby or American Football should help with defensive awareness and learning to read the game. As a result, your awareness of how you can work as a defensive unit with your defence and learning to make the right calls relating to repositioning or man marking etc. And there are various other sports that can help with different aspects of goalkeeping like athleticism and explosive power.
Just training!
At the end of the day, it's just training! There's no commitment to a season long of another sport; it's all about trying things out and re-applying what you have learnt from reading the game and blocking shots instinctively. Reading the play in different sports can help you spot defensive breakdowns sooner in a hockey game.
Psychologically it is also a neat trick for you to work on your confidence and playing under pressure (since you are trying something new). Sometimes it can be difficult to develop outside of training with the pressures of playing at a competitive level, and therefore you don't always get to experiment with confidence (i.e. the certainty of not allowing a goal). So playing another sport allows you to do this and build up your self confidence, which is ever so vital for high performance in goalkeeping.
Comments
Missing Something?
If you can't find what you are looking for on here you can email one of the friendly team at OBO in New Zealand on the following address… contact@obo.co.nz
Great News!
Comments
Can I paint my CK helmet?
Painting should be undertaken by an experienced painter. It is quite difficult and probably not that easy to do at home without experience and the needed materials. The process is similar to airbrushing plastic parts of cars (bumpers/fenders etc):
1. The surface must be roughened.
2. The whole surface must be degreased.
3. Apply a full surface special feeder.
4. The helmet can then be painted with a two-part paint.
5. When the paint is dry the helmet should be sprayed with transparent varnish.
Comments
Elbow Guard Review
BY
knighttimes
August 12, 2014
I have used the elbow pads on a couple of occasions and knew that they were very popular with the other guys. If I was last to get changed for training the elbow pads had already gone and were being used. The more I have worn them the more comfortable they have become. Lightweight is a big bonus compared with other elbow pads on the market and the protection is impressive as the lads at Loughborogh seem to love hitting the ball at goal as hard as they can from 6 yards so they have been well field tested. I have the same problem as the other guys as the tongue on the left glove gets caught under the lower part on the elbow pad.
Ali McGregor
Comments
Inside the OBO kicker
Hey guys, thought this might interest some of you who want to know whats really in your kicker. We've deconstructed a kicker to show you a little bit about how they work and what they're really made of.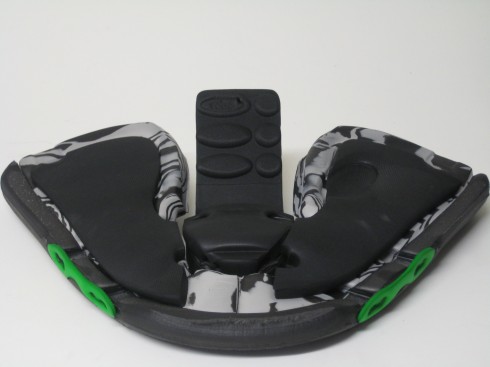 As you can see in this photo the inside of the kicker is rather different to how it looks on the outside. We counted up the number of components within a kicker, including straps and buckles, and discovered that the Hi-Rebound kicker has 21 individual components. I'll run through a few of them now.
The black and gray patterned pieces of foam that make up the base of the kicker are a shock absorber. They are less dense than the coating that would normally be on the outside of the kicker and made of soft, lower density foam which absorbs most of the impact from a ball hitting the kicker. They also provide a comfortable inside surface of the kicker that can mold to the shoe.
The two large black surfaces on either side are what gives the kicker its Hi-Rebound. They are rigid, high density pieces of foam. This means they don't bend when the ball hits them and therefore provide a more solid surface and consequently Hi-Rebound. Notice that they are on both sides of the kicker. This is because OBO kickers do not have a left and right.
The layer of black foam you can see around the bottom of the kicker is like a wear pad. It is higher density than the soft inner and lower density than the outer foam and designed to protect the soft inner foam from wearing on the playing surface.
As with the sides of the kicker, the tongue also has a hard outer surface and a soft inner surface. This cannot be seen in the picture but the top part of the tongue (which can be seen) is higher density than the bottom part of the tongue (which cannot be seen).  This is the same principal as the rest of the kicker. Hard protection on the outside, soft comfort on the inside.
What also cannot be seen in this photo (but you will find on your kicker at home) are the soft foam pieces on the back of the kicker. They are there to stop your shoe from sliding out of the back the kicker during a game.
this kicker doesnt have any straps or buckles for obvious reasons, but the straps and buckles that OBO uses are all designed to wear and survive impact better than anything else on the market.
Comments
Keeper Stop Motion
A very clever video put together by Dutch goal keeper Anne Veenendaal. Using 248 still pictures of every movement Anne was able to create a movie that showed a goal keeper magically being dressed in OBO gear.
Anne plays for Amsterdam with my good friend Emily Hurtz and was kind enough to let me post this video of her. I hope you enjoy it
Comments
Why OBO chose not to use D3O
A little over 7 years ago, a radical new protection polymer called D30 was offered to OBO. Because we are always trying to improve our products we were excited by the potential of D30 so our designer made a special trip from New Zealand to England to meet with the creators of D30. He returned home with lots of information and some samples which we tested in the purpose built OBO impact lab … The O lab.
Our impact lab testing showed that while D3O weighed more than two and half times the OBO polyethylene and EVA foams, it provided significantly less protection when dealing with the high speed and highly localised impact encountered with a hockey ball.
Have a look at the results on the following impact graph (the horizontal axis is speed, the vertical transmitted force)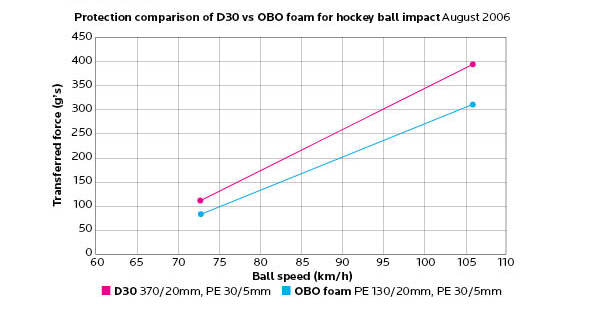 While we are sure D30 is an excellent material in certain usage situations, on the basis of our laboratory testing results, we decided not to use D30 in our hockey protection products.
If you are really interested in all learning more about this, please drop us a line at info@obo.co.nz
Comments
Legguard straps slipping loose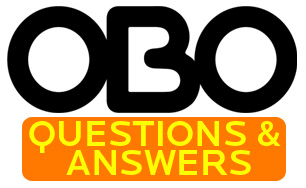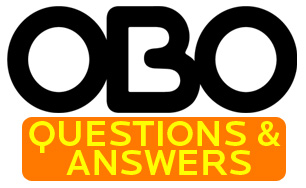 Question:
I am a field hockey goalie in the United States. I've encountered a bit of an issue with my leg guards lately–the straps slip loose a little bit, causing them to twist when I stack and dive (I have Robo kickers and leg guards). It got me thinking: what if you replaced the clips with buckles? It would eliminate that problem and also make them easier (though not as quick) to strap on. Would you ever consider making it an option to have leg guards made with buckles rather than clips?
The idea came from researching ice hockey pads. All pro goalies use a combo of leather straps with metal buckles. It is considered superior to nylon straps and plastic clips, and is durable enough for those guys to last at least a few seasons. Additionally, if they are resistant to the ice and snow, surely they would also weather a water pitch well.
Thanks,
Answer:
Pads shouldn't twist as the straps shouldn't loosen. OBO leg guards have a "creeper" buckle designed to prevent slipping. Sometimes the strap will loosen if the male end of the clip is facing the wrong way. The angled slot edge of the buckle should face down and towards the prongs of the buckle when the strap is properly threaded. Make sure the strap is pulled snug when you secure the clips and the leg guard is locked in place on the tongue of the kicker. The leg guard should be snug when the straps are properly tightened.
Metal buckles will damage foam when sliding, plus the buckles require the straps to have punched holes. Legs come in a variety of sizes and the holes that suit one keeper with leather straps may not fit another keeper, preventing a truly secure fit. Most ice hockey keepers wear their pads with the straps done loosely so they'll rotate and maintain contact with the surface when they go down so a tight, custom fit isn't an issue.
Cheers,
Jon
Comments
Skinny or fatboy?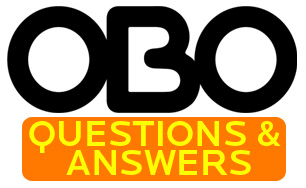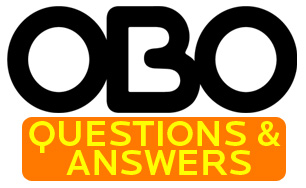 Question:
I am buying a new goalie stick, I wondered what you thought was better out of the fatboy and skinny?
Answer:
Fatboy or Skinny is really a matter of preference. The primary difference is in the weighting/balance of the sticks. The Fatboy has a heavier head as the shaft is hollow. Keepers who are active using their stick to clear the ball like the weighting/balance because you can generate more power swinging the stick. The Skinny stick is solid and the weight is more evenly distributed through the length of the stick. The Skinny stick is more suited to keepers who push the ball if clearing with their stick if clearing. As the stick is solid as opposed to hollow, the Skinny tends to be a little more durable than the Fatboy, something to keep in mind if you're hard on your stick and money is an issue.
Cheers
Jon
Comments
The First Ever Goalkeeper Coach & Trainer Forum
BY
admin
February 21, 2014
Martijn Drijver, principal of the Drijver Goalie Academy based in The Netherlands has suggested it's high time that goalkeeper Coaches and Trainers from around the world get together for a day of sharing, learning, discussions and doing … and of course some fun.
There's so much to learn, so much to share.
We at OBO agreed and together with a small team of like-minded passionate people want to get your reaction to our progress to date. So here's where we are at ….
Who ■ Goalie Coaches and Trainers who are passionate about improving their coaching… who want to contribute to the world's body of knowledge about 'keeping' … basically those coaches and trainers who want to take 'keeping' and their coaching to a whole new level.
We don't know what we don't know!
When ■ Wednesday 4th June 2014 (a rest day at the 2014 World Cup)
Where ■ The Leiden Hockey Club (20 minutes via train from The Hague), The Netherlands (it has amazing meeting areas and 3 pitches are already booked)
What ■ A full day of …. presentations, discussions and debate. This is not about lectures. There is no right answer. Let's share the pros and cons of various approaches.
…. On field sessions showing, doing, talking, sharing. ….. An evening of food, fun and friendship.
Topics in Mind ■ Saving and clearing the ball, Saving within the 6 metre zone, The mental aspects of 'keeping', The conditioning/physical training of goalies
Led by ■ Martijn Drijver (Holland), Grahame Mansell-Grace (UK) and several top trainers still to be finalised – hosted by Guus Vogels (Holland) and supported by a number of highly experienced Keepers from around the world.
Cost ■ There will be a cost but we promise it won't be exorbitant – just enough to cover costs. This is all about sharing, growing, learning, developing and connecting…not making money.
Are you a starter? Tell us if you are interested, if you can come and any suggestions you have for 'the day'.
Register your comments and interest by emailing global.coach.meet@obo.co.nz
Here is a downloadable PDF with all the information needed!
Global Forum
Supported by OBO because they really care about helping goalkeepers
… Goal Keepers are Amazing People!
Comments