Abratte Agustin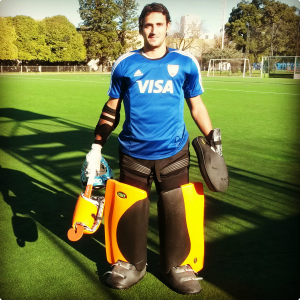 What club you play for:
Club Athletico Ducilo
What country you play for:
Argentina

Great achievements:
Bronze Medal in the World Cup 2014
Birthday:
16th December 1985
International Debut:
V Korea at the World Cup 6th of June 2014
How often do you train?:
5 days a week, each day we do 2 hours on the turf, 1 hour in the gym and 1 hour of jogging
List of gear you use and why?:
Robo Hi Rebound legguards and kickers: They are very strong and are the best for easy long ball clearances Robo Hi Control Hand Protectors: Best right hand wrist movement, it's more comfortable when laying down and in 1v1 moments Robo Bored Shorts: Very comfortable and they offer the best protection Robo Chest Protector: Very protective to all shots even if they are in close Robo Elbow Guards: They give me more agility and quickness in my arms.
Hockey Aspirations:
To play in an Olympic Games or World Cup
Life Aspirations:
Achieve my sport wishes, finish my study in civil engineering and form a family.
Advice for young goalkeepers:
Listen to all your coaches and goalkeeper coaches. Try all techniques you are told. And then fincally we can stay with what feels more comfortable and works best for you. Each goalkeeper must create their own style to suit them!
Twitter Handle:
@agustinabratte
Instagram Handle:
@Agustinabratte