Ayeisha McFerran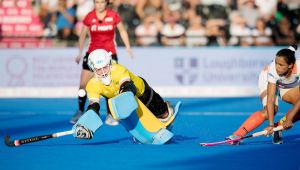 What club you play for:
Kampong
What country you play for:
Ireland

Great achievements:
2018 World Cup Silver Medal, London
Hobbies:
Baking/cooking up a storm in the kitchen or outside doing something active
International Debut:
11th January 2014
Best Memory:
2020/21 Tokyo Olympic Qualifiers in Dublin v Canada on a Shootout win
How many times do you train?:
6 Turf and 2 Gym sessions, 1 Game
Favourite piece of gear and why?:
My ROBO High Rebound leg guards & Robo Plus Kickers. They give me the confidence to play and move about the circle and the be block to any ball in front of me.
Hockey Aspirations:
Play and Medal in an Olympic Games
Life Aspirations:
To be able to sit in a comfy chair when I'm old and be happy I lived a fun and fulfilling life
Advice for young goalkeepers:
Find out who you are as a goalkeeper and keeping trusting your abilities.