Maurits Visser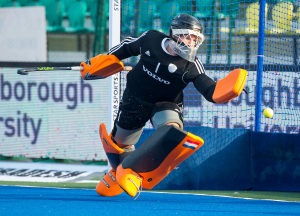 What club you play for:
HC Bloemendaal
What country you play for:
Netherlands

Great achievements:
Dutch champion 2019. Qualifying for the Olympic Games against Pakistan in my 2nd and 3rd caps
Hobbies:
Hockey, Study medicine, playing
International Debut:
15-02-2019, HPL vs Spain, Valencia
How often do you train?:
5 turf, 2 gym
Favourite piece of gear and why?:
The Robo + kickers, because they have amazing rebound, great protection abilities and you use them the most of all the gear.
Hockey Aspirations:
Playing at the Olympic Games and winning the gold medal.
Life Aspirations:
To become a great doctor after my hockey career.
Advice for young Goalkeepers:
Enjoy the game and the responsibility of being the last line of defence for your teammates.