Jess Jecko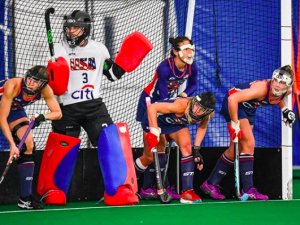 What club you play for:
USA Field Hockey
What country you play for:
USA

Great achievements:
Making the USA Team
Hobbies:
Cooking, hiking, and playing with my dog Honey
International Debut:
September 2018
Best Memory:
Playing against Australia in the 2019 Pro League. We played in the old Olympic stadium. The fans were incredible!
How many times do you train?:
We typically have 6 turf sessions and 3 gym sessions a week. Sometimes we have extra conditioning during the week or on the weekends.
Favourite piece of gear and why?:
I really love the ROBO Plus Kickers. Before them, my big toe would get hit every once and while. Now, my toes never get hit. I love how light they are, and how easy it is to control the ball off them. They are amazing!!
Hockey Aspirations:
To be one of the best goalkeepers in the World
Life Aspirations:
I really want to coach college field hockey when I'm done playing. I also want to start a traveling goalkeeping training company. Have a cool van with a bunch of goalkeeping training tools, and travel the USA teaching goalkeepers and sharing my passion.
Advice for young goalkeepers:
Focus on your basic skills and then add the advanced skills. This might not be fun, it will be repetitive, but it will make you a better keeper