Grace O'Hanlon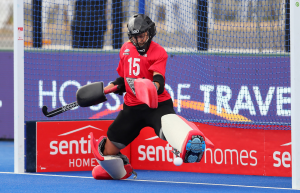 What club you play for:
Somerville HC
What country you play for:
New Zealand

Great achievements:
Commonwealth Games Gold
Hobbies:
Anything outdoors
International Debut:
Feb 2017
How often do you train?:
4 Turf, 3 Gym
Favourite piece of gear and why:
Left glove, by a country mile. I'm left handed, so the left glove is the MVP of my kit. Also great for waving to fans.
Hockey Aspirations:
Survive a pandemic only to be struck down by heat stroke at the Tokyo Olympics.
Life Aspirations:
To feel fulfilled, whatever path I end up treading.
Advice for young goalkeepers:
Wash your kit. A stinky keeper makes no mates.