Josine Koning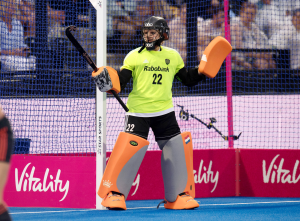 What club you play for:
HC Den Bosch
What country you play for:
Netherlands

Great achievements:
World Champion 2018
Hobbies:
Wind sailing, puzzles, reading, cats
International Debut:
June 2017
Best Memory:
Winning the shoot out series in the World Cup Semi-Finals
How often do you train?:
6-8 Turf, 2 Gym
Favourite piece of gear and why?:
That would be my ROBO Chest Protector. Whenever I put it on I can feel whether it's gonna be a good session or not. If it fits like a second skin you know it's going to be a good one. It makes me feel protected but even more it makes me feel unbeatable and helps me to defend my goal with great confidence.
Hockey Aspirations:
Olympic Gold
Life Aspirations:
Be a kind person who left the planet a bit better than they entered it!
Advice for young goalkeepers:
Spend your time on the turf having fun! Don't let a goal against, or a bad session stop you from loving the game. We've all been through some though moments, but remember that the mistakes and the losses is what makes us a better person, a better goalkeeper and a better winner. And keep in mind that little kid that would run with those legguards that where way too big and why that kid wanted to be a goalie!