Kelsey Bing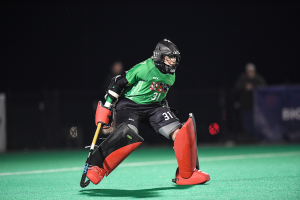 What club you play for:
Texas Pride & Stanford University
What country you play for:
USA

Hobbies:
Hiking, pickle ball, walking my dog
International Debut:
November 27, 2018 against Belgium
Best memory:
Winning in shootouts against Belgium in my first cap
How many times do you train?:
3 gym, 5 turf sessions
Favourite piece of gear:
It's hard to choose just one! I love how the gear enables me to be incredibly mobile while still maintaining a sleek design. I really have loved the new ROBO Plus Kickers. I think they are a great upgrade that has helped me enhance my game.
Hockey Aspirations:
Become an Olympian and try to be the best goalkeeper I can be
Life Aspirations:
To be an engineering who works on autonomous systems
Advice for young goalkeepers:
Work hard, love the game, and stop the ball.