Sally Rutherford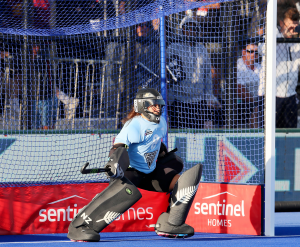 What club you play for:
Takapuna/ Midlands
What country you play for:
New Zealand

Great achievements:
Bronze Medal in the 2011 Champions Trophy
Hobbies:
What are hobbies...
International Debut:
V China 2009
Best Memory:
Beating Argentina at North Habour in 2011
How often do you train?:
Turf x5 and Gym x3
List of gear you use and why?:
Obo Robo all the way...becasue its the best and looks the coolest
Hockey Aspirations:
Play in and win a gold medal at 2014 World Cup, Commonwealth Games and the 2016 Olympics
Life Aspirations:
Hockey is life
Advice for young goalkeepers:
Go for every ball even if you don't think you are going to get it...it looks good and you might surprise yourself and reach it.