Sabbie Heesh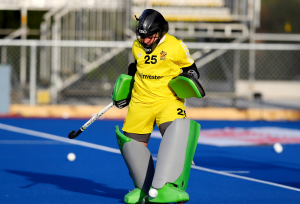 What club you play for:
Surbiton HC
What country you play for:
England

Great achievements:
European Gold Medal (2015), European Bronze Medal U21 (2012)
Hobbies:
Music, travelling, food
International Debut:
November 2014 v Germany
International Caps:
16 combined (GB +ENG)
Best Memory:
European Gold Medal 2015
How many times do you train?:
GB: 5 x sessions a week Club: 1 x session, 1 x game per week Gym: 3 x week
Favourite piece of gear and why?:
Helmet as it protects my best assets
Hockey Aspirations:
Play in an Olympic Games
Life Aspirations:
Travel the world
Advice to young goalkeepers:
My advice for any young goalkeeper would be to firstly to enjoy and embrace the challenge of being a goalkeeper. It is a very unique and somewhat individual position within a team sport. Secondly, take advice and coaching from as many GK's/coaches as you can. No GK has the same style or plays exactly the same. it is important you develop a style that suits your game and physical capabilities.