Saskia van Duivenboden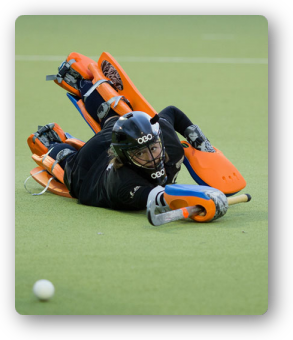 What club you play for:
N.M.H.C Nijmegen
What country you play for:
Netherlands

Great achievements:
Winning the gold medal at the Youth Olympics in Singapore
Hobbies:
Playing hockey, shopping and meeting with my friends
International Debut:
12th April 2009
Best Memory:
Winning the gold medal at the Youth Olympic Games in Singapore
How often do you train?:
5 turf sessions and 3 gym sessions
List of gear you use and why?:
All OBO! Good shape, good quality, very good protection and it's really comfortable Robo Hi Rebound Legguards, Robo Hi Rebound Kickers, Robo Hi Rebound Hand Protectors, Robo Hot Pants, Robo Over Shorts, Robo Pelvic, Robo Elbow Guards, Robo Chest Protector, OBO Carbon Helmet
Hockey Aspirations:
Play at the Olympic Games
Life Aspirations:
Let life surprise you!
Advice for young goalkeepers:
Start simple and be paitent with learning new tricks and moves