David Carter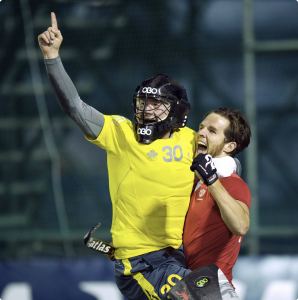 What club you play for:
United Brothers HC
What country you play for:
Canada
Great achievements:
Gold Medal 2009 Pan Amercian Cup (World Cup Qualifier) Goalie of the Tournament
Birthday:
4th November 1981
Hobbies:
Singing and Playing Guitar
International Debut:
Vs Chile 2007
Best Memory:
Beating Malaysia in a shootout during the semi finals of the 2014 Champion's Challenge in frontof 9000 boisterous Malaysian fans
How often do you train?:
4 Turf and 6 Gym per week
List of gear you use and why?:
OBO Carbon Helmer, ROBO Body Amour, ROBO Hi Rebound Hand Protection, Robo Hi Rebound Legguards, ROBO Hi Control Kickers I use this gear because it mazimizes both protection and comfort while lasting longer than other brands I have tried.
Hockey Aspirations:
2016 Rio Olympics
Life Aspirations:
Health and Happiness
Advice for young goalkeepers:
Even though I know I can't save every shot, I believe that I can!
Twitter Handle:
https://twitter.com/davecarter30 @davecarter30
Instagram Handle:
https://instagram.com/davecarter30/ @davecarter30