Maria Belen Succi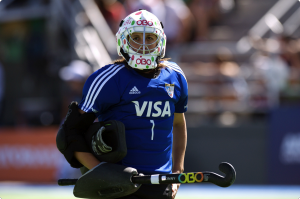 What club you play for:
CASI
What country you play for:
Argentina

Great achievements:
Gold Medal at the 2010 World Cup
Birthday:
16th October 1985
Hobbies:
Playing Squash and Rowing
International Debut:
4 Nations in 2004
Best Memory:
World Cup 2010 and Champions Trophy 2014 in Mendoza
How many times do you train?:
Every day we do 3 hours of turf training, 1 hour of jogging every day with 2 gym sessions a week and add 1 hour of squash every week.
List of gear you use and why?:
All of my equipment is OBO ROBO and for my stick I use a skinny thing. I consider OBO the best brand in the world for goalkeepers, it's constantly active in looking for the best material to give us the best performance.
Hockey Aspirations:
Olympic Gold Medal
Life Aspirations:
I would like to be happy in whatever I do out of hockey. Esepically with my family, my son and in my prefession as a teacher.
Advice to young goalkeepers:
" The day you feel you are a starting player, you will stop growing as a player." This phrase keep me training at 110%
Twitter Handle:
@BelenSucci
Instagram Handle:
@gufa28