Mark Appel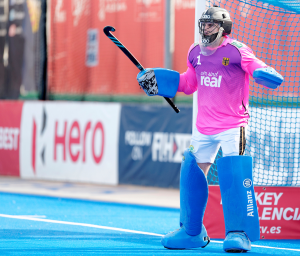 What club you play for:
Der Club an der Alster
What country you play for:
Germany

Great achievements:
Junior world champion 2013 in India / German Indoor Champion 2019 / EHF Club Champion 2020
Hobbies:
Reading books, hanging out with friends, skiing
International Debut:
04.03.2017 in Cape Town against England
International Caps:
24 (32 international youth caps)
How often do you Train?:
3 turf / 2 GK training sessions / 3 gym sessions
Favourite Piece of Gear you use and why?:
My helmet. Is simply my sanctuary, after all it protects a quite important component of the body. Side fact: I take it home every time after training.
Hockey Aspirations:
Olympics 2021 + 2024
Life Aspirations:
Just enjoy life and stay relaxed. Things always turn out differently than you think or plan anyway.
Advice for young Goalkeepers:
Calm down with the path of your career. As a hockey goalie you probably won't reach the peak of your career or your top level if your friends of your age do. You simply need more time as a goalkeeper. This sometimes leads to some frustration, especially in younger years and for many goalkeepers to quit the sport early. Therefore, it is very important to be aware of this aspect.