Elena Sotgiu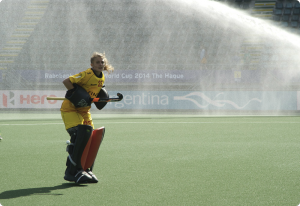 What club you play for:
Herakles
What country you play for:
Belgium
Great achievements:
Winning goalkeeper of the tournament at the EuroHockey Junior Championship 2014 in Waterloo
Hobbies:
Travelling, shopping, speding time with family and friends
International Debut:
2009 with the U16 Squad and 2013 with the Senior Squad
Best Memory:
My first World Cup with the U21 squad in Muchengladbach and my first World Cup with the Senior Squad in Den Haag. Amazing Experience!
How often do you train?:
5 turf session, 1 gym session
List of gear you use and why?:
Everything of OBO Robo Hi Rebound! Becasue they have the best shape and fit immediately. They absorb every shot and they are really nice! What more do you need?
Hockey Aspirations:
To take part in the Olympic Games one day
Life Aspirations:
To do what makes me happy
Advice for young goalkeepers:
Enjoy goalkeeing! Learn from every goal you get against you and keep working to get better and better!
Twitter Handle:
https://twitter.com/ElenaSotgiu @ElenaSotgui
Instagram Handle:
https://instagram.com/elenasotgui/ @elenasotgiu