Andrew Charter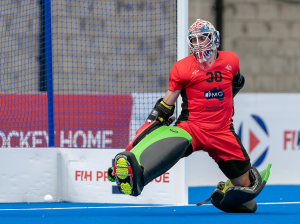 What club you play for:
Melville (Perth) Central (Canberra)
What country you play for:
Australia

Great achievements:
Gold 2014 World Cup, 2x Commonwealth Games Gold
Hobbies:
Gaming (DOTA2), Dancing, Cycling
International Debut:
2011 vs Malaysia (Sultan Azlan Shah Cup)
Best Memory:
Defeating the Dutch at the 2014 in the Hague
How many times do you train?:
5 Turf 2 Gym
Favourite piece of gear and why?:
ROBO Plus Kickers – Best toe protection I have ever had and mobile
Hockey Aspirations:
Tokyo 2021 Gold
Life Aspirations:
To have a positive impact on those around me, however that may be
Advice to young goalkeepers:
Keep having fun, if you lose the passion or enjoyment then what is the point. Be Brave!