Maria de los Angeles Ruiz Castillo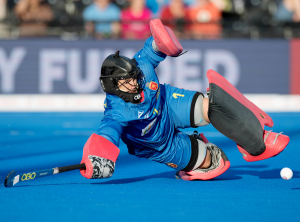 What club you play for:
Club de Campo Villa de Madrid
What country you play for:
Spain

Great achievements:
Bronze medal (world cup 2018, Euro Hockey Championships 2019), Copa de la reina x5, Spanish league x4, MVP (Euro Hockey Championships 2019, Copa de la reina x2, Final four 2015, Euro Hockey Club Cup x2, indoor Euro Hockey club cup x4)
Birthday:
18th March 1990
Hobbies:
Reading, travelling, singing
International Debut:
February 2013 - World Leauge Round 2 Valencia
Best Memory:
Bronze medal in the World Cup (London 2018)
How often do you train?:
7 turf and 5 gym
List of gear you use and why:
I use a full gear OBO ROBO high rebound because the allow me to control where I deflect the ball. The plus kicker are my favourite because the control in the save is amazing.
Hockey Aspirations:
To play in an Olympic Games
Life Aspirations:
Be happy
Advise to young goalkeepers:
If you train hard enough, your wishes will be fulfilled.
Twitter Handle:
@MARuiz18
Instagram Handle:
@maruiz18