Dom Dixon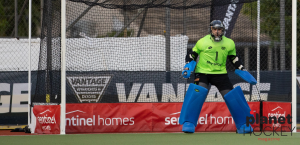 What club you play for:
Central Mavericks
What country you play for:
New Zealand

Great achievements:
Debuting for the BlackSticks
Hobbies:
Music, Outdoors & Nature, All Sports
International Debut:
2018 against Japan
Best Memory:
Cold, wet, rainy bronze medal shootout victory at 2016 NHL.
How many times do you train?:
3-4 Turf and 3-4 Gym sessions
Favourite piece of gear and why?:
I would say the whole kit… But if I had to select one piece, it would be the ROBO Chest Guard – I don't feel a thing when it gets hit, giving me full confidence.
Hockey Aspirations:
Win an Olympic gold medal with the BlackSticks
Life Aspirations:
Enjoy a balanced life, having fun with family, friends, hockey and a professional career.
Advice for young goalkeepers:
Enjoy yourself and cherish every moment you step on the pitch.